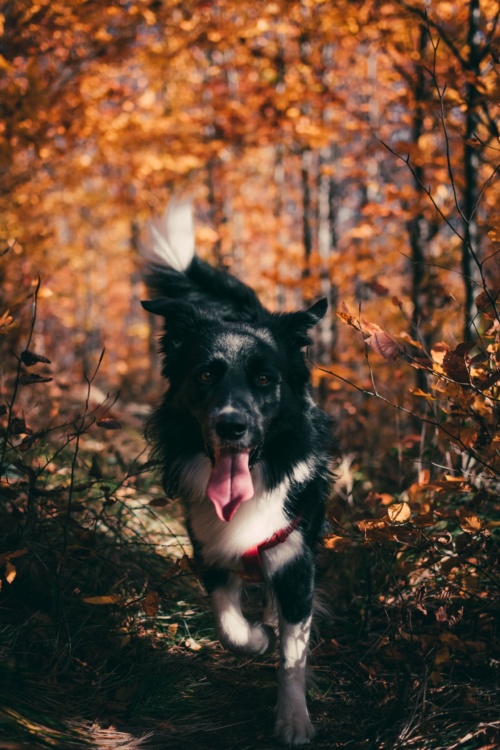 Say it isn't so! Those last few warm days in September are a joy, but Chicagoans know what is right around that corner. Just like we are adapting to the changing of the seasons, so are our pets. Fall is a generally mild season with crisp air and a plethora of deep reds and oranges. A truly beautiful sight, but it can come with some challenges as well. Since Fall is a somewhat gradual change, it is a great time to do some inventory and restock before Winter arrives. Let's take a look at a few tips and tricks to get through the coming season from our walker Nathan C!
Beware of Evening Darkness
As the daylight becomes less and less, you may want to take advantage of what's left and that might mean a shift in walk times to bear the darkness. Just remember that your pup may be feeling the change too, so changing their schedule too much too soon could cause some unintended stress. Try moving to your new schedule in 15 minute increments. On the other hand, if you keep to the same schedule but find yourself walking at night, remember to wear bright or reflective colors or carry a flashlight to maintain clear visibility for you and your neighbors. Also, with the days getting shorter, you may not be getting home from work until after the sun sets. Leaving a light on or putting it on a timer is a great way to help your furry friend adjust to the change as well.
Remember to Practice Caution Outside
While out on your adventures, be cautious around piles of leaves. It's so cute to see our pup run through the leaves with a big goofy grin, but unless you know what is underneath them, there could be something dangerous lurking like a sharp rock or even a snake. Be cautious of the little detectives out there too. Our very sniffy friends could come upon a clematis, autumn crocus, chrysanthemum, or even a mushroom which are toxic to dogs if ingested.
Prepare for Winter in the Fall
Fall is also a great time to take stock of your inventory and make sure you are all set for the coming Winter. Make sure coats and jackets still fit properly, stock up on treats and toys since they may be playing outside less, and start pulling out the winter gear so that it's ready to go the first time it snows. In Chicago, we know all too well that this could happen in October! Remember the golden rule, if it's too cold for you then it is too cold for your pet. Usually that means anything below 32 degrees but for some cold averse breeds or our senior dogs, that could be anything below 45 degrees.
And as always, remember to stay hydrated! Enjoy!
Windy City Paws is a Fear Free Chicago dog walker and petsitter committed to providing helpful information to Chicago dog owners through its blog.
Written for Windy City Paws by Nathan Carroll