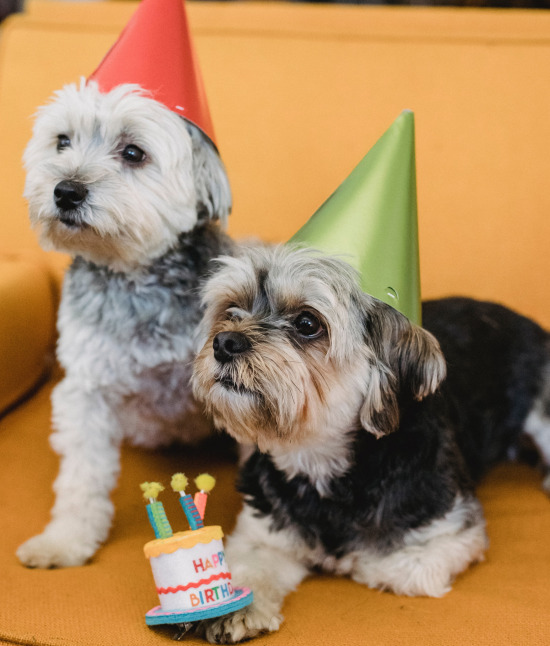 As the holidays are upon us, we're reminded to be thankful for the special people and pets in our lives. If you want to go the extra mile to celebrate your pet's presence in your life (and frankly want to keel over from cuteness) why not throw them a birthday party! After organizing a day out with their puppy friends and picking out their gifts, you still need that piece de resistance—the birthday cake! You might think that since dogs will try to eat most anything, a basic cake from the grocery store will do, but this is a common mistake. We'll walk you through the reasons why dogs should eat pet-friendly cakes, and where in Chicago you can visit or order from to get the perfect cake for your perfect pup!
Why
not
just a regular cake?
Pure and simple, most cakes are made for the human digestive tract, and often contain ingredients dogs struggle to digest. A plain vanilla cake wouldn't hurt them, sure. But common ingredients in cakes like sugar and processed white flour are highly unhealthy for pets.
The high quantity of sugar in cakes by itself can play havoc with their dental health and cause bowel troubles. Other frequent ingredients in human cakes like cinnamon, various types of nuts and fruit can pose serious health risks to dogs. Not to mention how many cakes contain chocolate! 
What makes a cake pet-friendly?
A reputable pet-friendly baker will use whole food and sugar-free ingredients. Alternatives to white flour such as wheat, almond flour (more on that below), or oats are preferred. For frosting,  peanut butter, yogurt, and whipped cream are excellent substitutes! If you want additional ingredients like fruit, make sure to talk to your potential puppy guests about their dietary restrictions since some pups can tolerate certain fruits more readily than others.
One particular point of contention within pet nutrition is whether nut-based flour or milk is good for dogs. While raw almonds are toxic for dogs, some can eat products including almond flour and milk. If you're unsure, wheat flour or oats will be in your favor. Check with your vet if you have questions about your dog's dietary needs and if almond flour or milk would be safe for them.
Chicago-Based Pet Bakeries
Sit Social
3221 N Clark St., Chicago, IL 60657
Sit Social makes natural dog birthday cakes and cupcakes that contain human-grade ingredients with no preservatives. Sit Social says its dog birthday cakes are made locally by its staff. Sit Social is also a dog party venue, so you can get your cake and plan your party at one stop.
Tails in the City
1 East Delaware Pl, Chicago, IL 60611
River North-based pet boutique Tails in the City provides a wealth of dog-friendly sweet treats made from whole food and sugar-free ingredients, including carob and yogurt-based cakes. While their cakes are pre-made, their quality ingredients and options for additional treats will be more than enough to whet your pup's appetite on their special day!
For Dog's Sake
1757 N. Kimball Ave., Chicago, IL 60647 
For Dog's Sake offers a variety of different cake types, from classic round cakes to bone-shaped treats. They offer a variety of cake sizes, so you can fit your cake to your pet's size—or appetite! If your dog has dietary restrictions, they also provide gluten-free cakes. If you want to pick up something special, gift your pup one of their bacon cupcakes or pies!
A.R.F.! Barking Fresh!
Various Locations (see link for complete list)
ARF! Barking Fresh! is an independent baker selling pre-made and customized cakes (and cupcakes!) for dogs. Their cakes are free of sweeteners, corn, soy, and wheat, and are made with whole-food ingredients. Their cakes are sold in a variety of pet boutiques in Chicago, a complete list of which can be found on their website.
Happy Dog Barkery
5118 Main St Downers Grove, IL 60515
Located in Downers Grove, this pet bakery and retailer has been active since 2004. Happy Dog Barkery has a huge variety of options for anything you might need on your pet's birthday, including cakes, toys, even party hats. Make sure to check out their cookie boxes—something to pass around to all your pup's friends! While outside the Chicago city Area, their goods can be delivered via USPS. If you have a long list and don't know where to start, Happy Barkery has you covered
Windy City Paws is a Fear Free Chicago dog walker and pet-sitter committed to providing helpful information to Chicago dog owners through its blog.