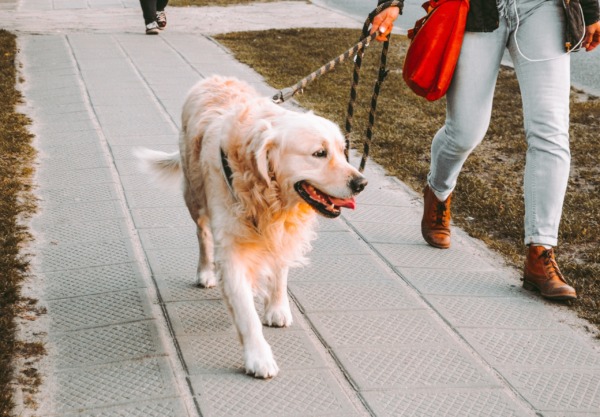 We love our employees at Windy City Paws! We wanted to share the experience of one of our walkers, Nancy P., regarding what it is like to walk dogs professionally during COVID-19. Read on to learn more about what a typical day in her life looks like during these times!
During these times that we are facing, not only as a dog walker but a dog owner myself, I have to think about my own dog's safety and my clients as well. Right from the start, I knew I had to take extra precautions before, during and after each walk. Since I take public transportation to get to my walks, I have to keep a distance from people. I cover my nose and mouth the entire bus ride by wearing a mask and gloves. Once out of the bus, I throw away the gloves, put hand sanitizer on and walk to my first client of the day. 
I've been very lucky to have clients who communicate their preference when it comes to picking up and dropping off their dogs. For some of my clients, I enter the home and the dog comes to me and we are quickly out the door for their walk. However,  some clients feel more comfortable bringing their dog to me outside. To maintain everyone's safety, we are always distanced even when communicating with each other about their pet's walks. After every walk I always pour hand sanitizer on my hands before reaching for my phone.
Even though I take extra precautions, as soon as I am home, I take my shoes off and go straight to washing my hands before petting or taking my own dog on her walk. Once her walk is done, I do take a shower straight away. I never touch my dog right after coming back from work even if she is whining and crying as all dogs do when we arrive! 
The smallest things during this time have brought me happiness. Things like seeing my client Stella's big puppy eyes widen when she sees a squirrel, or Oliver stopping mid walk because he decided he doesn't want to walk down that side of the street after all, or hearing my client's one year old son call his dog sister a good girl! Clients have also been very generous and helpful. When I wasn't able to obtain brussel sprouts at the start of lockdown, one of my clients gave me a bag of them after I had walked her dog! 
I am also very lucky to have a dog of my own to come home to and she has been great company throughout this time. At the end of the day one thing that I want to make clear, just as I take extra precautions to protect my own dog, and my own health, I do exactly the same to protect my clients and their families. We are all looking out for each other and will get through this together!
We want to thank Nancy for sharing her experience! We would also like to thank our clients who have been working with us to help keep their pets and walkers healthy and safe during this time!
Written for Windy City Paws by Nancy P.