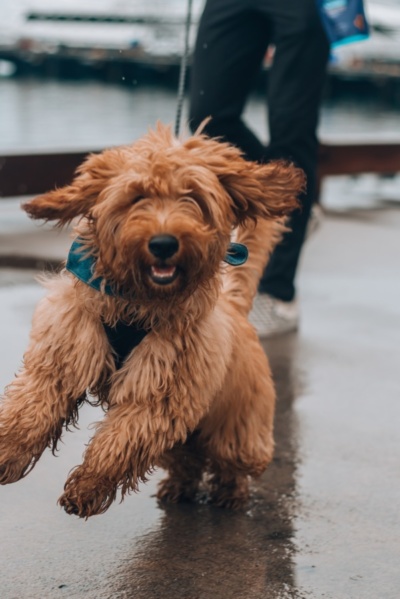 Running is an activity that can be enjoyed by dogs as well as humans. Keep in mind that any activity you try with your dog should be a fun, positive and a pleasant adventure! Our walker, Veronica shares her tips and suggestions about running with your dog based on her personal experience running with her own pup. Read on to learn more about how to make running with your dog an enjoyable experience for everyone!
First, start by establishing a routine. The key to getting your dog used to running are patterns. Associate specific things to running, for example running shoes, treat bags, and key words like "let's go running" when you are grabbing the leash are just a few ways to get your dog ready to run. If you go biking while your dog is running, associate the bike to "going outside."
Next, consider what kind of breed your dog is to know what abilities he/she has. Can they run long distance or short? Are they more comfortable running in grass or in dirt? Try to stay away from concrete, it can be very tough on their paws, especially on hot summer days when the concrete is hot; remember, if the concrete is too hot for the back of your palm it is too hot for your dog's paws.
When thinking about which side to hold your dog's leash while running, I always recommend walking your dog on your right side. By doing this, if you are on a park path for example, people running or biking can pass by your left side and avoid possible accidents. It is also important to beware of distractions like birds, rabbits, other dogs, and most importantly squirrels that your dog might try to sporadically chase after.
Another very helpful recommendation is to always carry a portable rubber dog bowl to keep your dog hydrated. They can be found on Amazon or at your local pet store. This is a convenient tool to keep on hand when your dog gets thirsty because you can easily refill it at a water fountain or with your own water.
Something to also consider bringing with you are treats. In case your dog does not want to go further try to bribe them with a treat or two. If that doesn't do the trick the best thing would be to go home or let  them explore at their own pace. 
Lastly, always reward your dog at the end of a run. A great reward for a job well done can include anything from cuddles, water, treats or even playing a round of fetch. You always want to make sure to acknowledge a great running day with your pup!
Thank you Veronica for sharing your tips and suggestions regarding running with your dog! Windy City Paws is a Fear Free Chicago dog walker and petsitter committed to providing helpful information to Chicago dog owners through its blog.
Written for Windy City Paws by Veronica Laureano