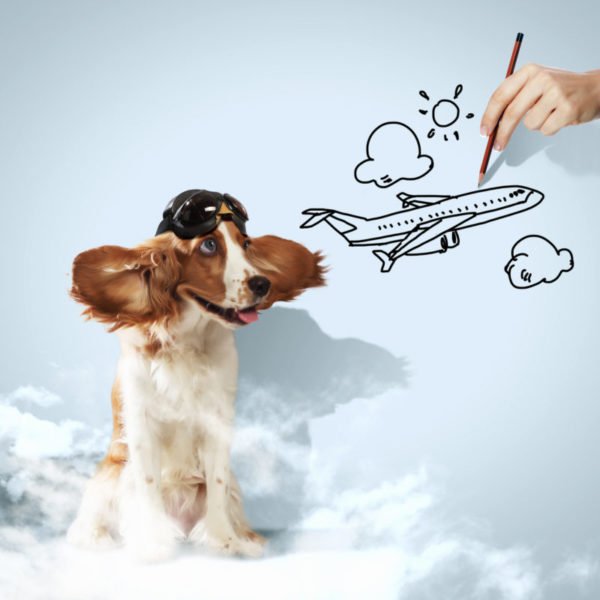 Air travel with a pet can be a daunting experience. Often, it's difficult to know what the guidelines are for traveling with a pet through an airport. Since we know it can be tough, Windy City Paws has put together some tips and addressed some common questions on traveling with a pet through the Chicago airports of O'Hare and Midway to ensure you're properly prepared for your next trip.
Plan ahead for your trip. 
Before you book your next vacation with your pet, your first stop should be your vet's office. It's important that your pet is up to date on all medications and shots and is healthy enough for air travel. This is especially important for international travel. Certain countries have requirements for pet entry and it is the owner's responsibility to know what those are. Depending on the country, the requirements can include blood tests, vaccinations, microchips for identification, permits, and/or health certificates. This can also be true for airlines. Do your research ahead of time to ensure you're prepared well ahead of your departure date. 
Contact your airline. 
Every airline has different requirements and rules for pet transport. Before purchasing your tickets, ensure that your pet is allowed to be transported by that airline and that you fully understand how the process works. For larger dogs that are not service animals, they will likely be transported in the cargo hold. According to the CDC, in some cases, dogs may even be required to travel as cargo on a separate air cargo flight depending on the destination country. 
Most major airlines allow well-behaved small dogs to accompany passengers in the cabin. Generally, a dog weighing no more than 15 to 20 pounds is allowed as long as they have the proper paperwork (if required) and is secured in a TSA-approved traveling crate. Service animals are allowed on planes, and some airlines make special exceptions for dog owners traveling with their pets due to extreme circumstances.
Some airlines have restrictions regarding the number of pets per flight so it is best to notify your airline as far in advance as possible if you plan to travel with your dog. This limit does not apply to service animals. 
Preparing your dog for travel. 
As it is a requirement for any pet travel, acclimating your pet to the travel crate before the flight is extremely important. Air travel can be hard for an animal so avoiding any added stress, such as being put in an unfamiliar crate, will help make the process easier for your animal. Begin acclimating your pet several weeks or months in advance.   
What animals are allowed inside the passenger terminals?
Working and service animals are allowed inside the passenger terminals as long as they are on a leash. All other animals must be in a kennel or crate. Not all those traveling with pets adhere to these rules, and many can be seen walking their dogs on leashes throughout the airport. However, the rule is always in place and can be enforced at any time. The best route is to always have your dog in a kennel or crate instead of taking the chance of missing your flight or being fined.
Where are the pet relief areas at Midway Airport?
The Animal Relief Area is curbside on the lower level, and there are signs showing the exact location on the arrivals concourse. Door 4, near Baggage Carousel 8, has an exit that leads just past the bus stop and onto the side of the building where there is a small fenced area. The ground cover is a rocky concrete pad, but there is a bench for dog owners to take a quick break from the endless terminal walking. Dog owners are allowed to venture outside of the fenced area, where there is a grassy patch and poop bags provided. There is also an indoor service animal relief area near Concourse A that is specifically designed to help those with service animals. There is an automatic door and it is wheelchair accessible. You can find a step-by-step directional guide for reaching each pet relief area here.
Where are the pet relief areas at O'Hare International Airport?
There are three outdoor pet relief areas near the lower level curb directly in front of Terminals 1, 2, and 5. The areas include real grass, gravel, wood chips, poop bags, and garbage cans. An expansion in October 2015 created a new indoor pet relief area just past the security checkpoints in the Rotunda area of Terminal 3. Rather than have to pass back through the security checkpoint to relieve your pet, the indoor pet relief area is a great new option for pet owners. The area has a glass pane room with two separate pet relief areas. A hose bib and reel is provided for manual spraying, plastic poop bags are provided, and there are two sinks for passenger use. You can find a step-by-step directional guide for reaching each pet relief area here.
Deciding if air travel is right for you and your pet. 
While airlines do their best to keep the animals entrusted to their care safe, there is always some inherent risk when traveling with your pet on an airplane. If you do decide to fly, always do your homework and plan ahead. Choose flights with few to no layovers. Skip checking your animal in cargo during the hotter months to avoid the heightened risk of temperature fluctuation-related deaths. Select departure and arrival times that will cause the least stress for your animal whether that be fewer people or better weather. 
Air travel is not right for all pets and ultimately, their safety and comfort should be your top priority. If you elect not to fly with your pet, consider alternative forms of transport. If your dog is small enough to fly in the cabin, they will likely be allowed on a train. Same as flying, do your homework before purchasing a ticket. If driving is a viable choice, take a road trip with your furry friend and see the sights with your best pal. If none of those are an option, consider leaving your pet with a family member, trusted friend, or professional boarding facility. 
Whatever you choose, planning ahead is always the best choice to ensure your well-traveled pet arrives at their destination safe and sound.
---
Don't forget to check out dog-friendly options for traveling to the airport!
Windy City Paws offers dog walking service in Chicago.
Learn more about the newest information with the guide to Chicago Midway International airport!