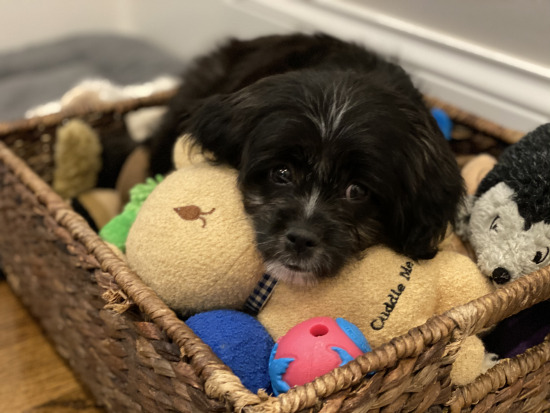 Windy City Paws Walker, Nathaniel interviews Owner, Katie to discuss her adoption of Margot Flamingo and her a-ha moment that helped create Windy City Paws's newest service offering: Training Walks.
During the 2020 lockdown, Windy City Paws Founder and Owner Katie Papes decided to adopt a rescue puppy. "The newest member of our family is Margot Flamingo, and she is 15-and-a-half pounds of sass and energy." 
From the beginning, Margot proved that when it comes to new puppies, especially rescues, you never know what you're going to get. "She was totally black with a smidge of white on her nose. And now she's totally gray, which is so funny. So definitely never get a dog based on what they look like, but we all know that, right?"
When the lockdown first began, the SPCA recorded a 30% increase in pet adoptions between the beginning and end of March 2020 alone. By April, adoptions had increased by 60.5% when compared to the previous year. The pet industry had made over $100 billion in sales as a direct result of this surge. Dog shelters reported a flood of new requests, resulting in longer wait times and shortages of available pets to meet the demand. 
In September of 2020, months after the initial adoption surge, Katie and her family looked to adopt a rescue, their first-ever. Felines & Canines, Katie's chosen organization, rescued some of their pets from their facilities out of state:
"[Felines & Canines] foster the animals in Alabama then selectively bring some of them to Chicago through the ASPCA. You learn about their personality through what [Felines & Canines] post through their foster parents, and then Felines & Canines match the animal with the adoptive parents they think are the right fit." 
The day Katie first met Margot, she and her family drove to a designated spot where a line of cars waited to meet their new pets. The ASPCA arrived and transferred the pets to Felines & Canines volunteers who walked and inspected the dogs for any new health issues. Once it was Katie's turn, the volunteers verified her adoption paperwork, gave a follow-up date for the spay surgery, and at last introduced Margot to her new family. "It was crazy," Katie remarked. "And her 'gotcha day' was the day before my birthday, so it was kind of special!"
Margot immediately hit it off with the Papes, and they had fun taking care of her on their own—for the first month. But like new children, new puppies can quickly become challenging: "We realized, oh my gosh, she has so much energy! Within the first couple months, she started typical puppy stuff: she's nipping, she wants attention, she's got all this mental and physical energy to burn. To give you an idea, she gets two one-hour walks a day. For a 15-pound dog, that's a lot!"
Winter soon rolled through Chicago as Margot grew up. The Papes were kept inside with a challenging pup, and Katie realized that she needed more help than initially planned. Margot needed more stimulation, socialization, and opportunities to expend her energy than Katie or her family could provide on her own. 
Many rescue shelters were the most nervous for this phase of dog ownership: when it dawns on the owner that it's hard work, especially when raising puppies. The typical narrative for these new owners was that of the remote worker craving contact or who had no time to raise a pet pre-pandemic. They feared many first-time pet parents would return their dogs once they resumed regular work hours or couldn't invest the necessary time and energy any longer. Current data shows that the rate of returned adoptions is lower than in pre-pandemic years. However, many dog shelters experienced a high level of returns from owners who adopted within the last year, in some self-reported instances as high as two-thirds of adoptions.
Katie's solution was to implement a takes-a-village approach to raising Margot. "Whenever you're rescuing a dog, you don't know what you're gonna get, and if it's not exactly what you want on the behavior spectrum, you're able to utilize these different techniques or professional services to get there." Margot received more human interaction and exercise through a Windy City Paws walker, dog interaction through Earth Pups daycare, and mental stimulation through virtual training classes with Anything is Pawzible. "I know the more she's integrated into my life, the better relationship we're going to have and the more bonded we're going to be. I want a real connection with the animal I'm with. But that really can come at a cost of your time and energy, and you have to be ready for that." 
Katie saw another narrative emerge when talking with other new puppy owners: dogs weren't socialized enough, increasingly anxious, and highly dependent.  Dogs were growing sensitive to noises and strangers because they simply hadn't been exposed to the outside world as much. Some owners in densely metropolitan areas like Manhattan even resorted to dog diapers to avoid going out in public (fun fact: 2020's sales for 'dog incontinence' products rose by over 200%). The end of lockdown will mean new, extraordinary challenges for pet owners. As a result, professional trainers have been inundated with requests to help an increasing number of pets through this transition. Margot, growing up in the time of lockdown, was no exception. "So that really was the impetus for Windy City Paws coming up with Training Walks."
"What's the purpose of walks? Well, the purpose of walks, ultimately, is exercise and getting them to potty. But when your dog is so anxious they're not enjoying that exercise, what do you do? How do you bridge the gap to get there?" These questions sparked the notion that Windy City Paws walkers could help clients meet this need by providing walks focused on training. Walkers would get internally certified in positive-reinforcement-driven training and work with the dog to improve basic commands, mitigate triggers, and improve leash behaviors. In this way, Windy City Paws walkers could help pets live happier lives and help owners grow closer to their pets. 
"I always think dogs are here to enhance our lives," Katie says. "And I do feel like we're helping them be our real best friends. That sounds corny, but because I've seen the value of it with my family, how could I not take action here and help others? We've always been doing some of this, but this will really help out so many more people."