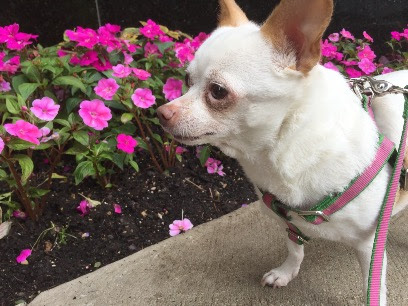 We love our clients at Windy City Paws, and we wanted to introduce you to our client Bella! Read on to learn more about this fierce pup!
How did you meet your family?
I was lost as a puppy. My dad found me in Dallas TX. It was love at first sight.
If your parents had to describe you in three words what would they be?
Friendly, fierce and fine.
Cubs or Sox?
Cubs.
Do you like ketchup on your hot dog?
Yes, but don't tell.
What is your favorite hobby?
I am an explorer of all things Chicago. Never met a stairway that I didn't want to charge right to the top.
What are your favorite foods?
Fresh turkey is my all-time fave cheat.
What is your favorite trick to do for a treat?
We play "which hand is it in? I watch the treat go left hand-right hand-left hand, sniff a bit, and then point my paw to the hidden treat.
What is your favorite movie?
I'm a big fan of "Puppy Dog Pals" on Disney Junior. Bingo and Rolly are awesome.
What is your idea of a perfect day?
Love a sunshine day. Walking by the river or on the lakeshore trail.
---
We love caring for our furry friends! Every month we spotlight one of our amazing pets. If you would like to learn more about our awesome clients, visit our website!