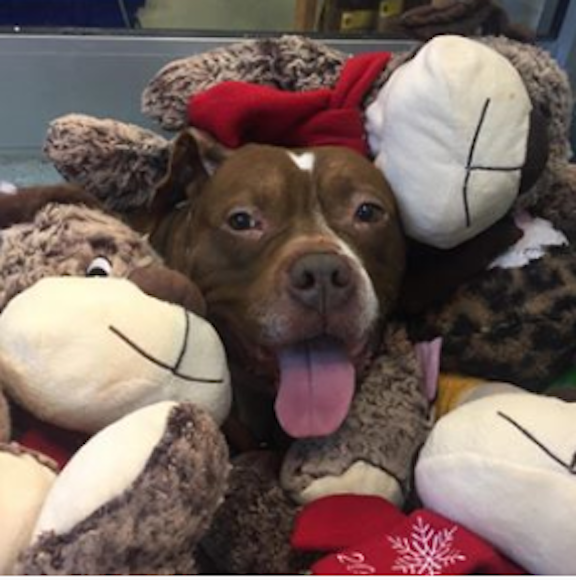 What is The Anti-Cruelty Society typically like during the holiday season?
We have a ton of puppies right now. When puppies come in under two months or two pounds they will have to go into a foster home. Between three weeks of age and seven to twelve weeks of age is a serious and crucial time for socialization. If they are not going to be socialized during that time, we can really do irreversible damage. It's important to get them out to foster homes so they are not growing up in cage at the shelter.
As for the kittens, right now we have a lot of mom and baby kittens, we don't have a ton of orphan kittens, that's more of a summer thing. Now it's mostly cats looking to get out of the building and into foster homes because they either have upper respiratory infections or they are mothers with babies.
Is there a greater need around the holidays for foster parents?
I personally like to have the animal out for the holidays because you don't want to think of an animal in need who is sitting in the shelter when you're surrounded by your family and friends.  A lot of people are off work and it's a pretty nice time to be able to foster if you have the room!
What is the process to apply to be a foster parent for The Anti-Cruelty Society for the holidays?
To be a foster parent you would go to our website: Anticruelty.org and fill out a foster application. We just want to know:
If you have any pets at home?

Does your landlord allow pets?

Is everyone on board in the family?
If your application is approved, you would come in for an interview and a two hour orientation session. We will go over all the policies that we have, give you a tour and then show you some of our foster candidates in the hopes that they will possibly be taken  home that same day.
What are my responsibilities as a foster parent for The Anti-Cruelty Society for the holidays? First, what is the time duration?
It depends on the situation as to why they would be a foster candidate for the length of stay. If we get an animal that is only a few weeks old, they will be fostered for about 2 months.
We have a kitten in the office now that just needs a little bit of socialization. He was brought to us and he hasn't had much human interaction. He is of age to be adopted, but he is not as social as he could be. If we put him out on the adoption floor, he would just be hiding out in his litter box and people would look over him. It's amazing how quick these kittens could rebound with some love! All you need is the time to sit with him for a bit, give him some pets, and that will give him some time to come out of his shell. We'll see quite a personality difference in as little as two weeks!
Sometimes we will get animals from southern states where it's warm all year round and heartworm is more prominent due to mosquitoes. Since we have the winter, a lot of our mosquitoes die out, so it's not such a huge problem here in Chicago. Those heartworm dogs are on treatment for about 6 months, so the stay for them would be about 6 months.
If I decide to foster a pet for the holidays what would The Anti-Cruelty Society provide? What supplies are foster parents responsible for?
We provide the age appropriate vaccines. Once they are about six or seven weeks old they can start getting their first rounds of distemper vaccines, but they can't receive a rabies vaccine until they are three months old. We also provide spay/neuter and microchip services.  
Science Diet provides our food here for the shelter. We will provide the dry food from Science Diet for you while you are fostering a pet. You may need to provide special treats and wet food for any kitties you may foster, and it's a good idea to keep some toys around for them as well! Sometimes we get donations of litter boxes we can't use or some nice beds, so we will keep a little stash for the foster parents.
What happens if the animal gets sick or hurt during my care?
If an animal is not presenting any symptoms when they are sent out to foster and then they start to come down with something such as a crusty eye or an upper respiratory infection, you can give our clinic a call and we will prescribe whatever is needed.
How should I prepare my home for a foster pet for the holidays? Any specific holiday tips?
Definitely be cautious with your Christmas tree for sure! Cats always love messing with Christmas trees! They'll knock it down and they can potentially harm themselves with the bulbs or the glass.
For any animal, It's better to start them off in a smaller area. Especially cats, as they like to get to know their surroundings. If you just open up your whole house to them in the beginning, it can be a bit overwhelming. Start them off in the bathroom. Set up a nice little area for them with  their litter box, food, bedding and they can hang out in the bathroom for about a week.
What should I do if I already have a pet that will need an introduction?
If you have a resident animal at home you don't want to introduce them immediately especially if they could be harboring an illness that is not showing symptoms yet. Just to keep everyone safe and happy, make sure to start them off small.
Once they get a little feel for the place, with cats they can be kind of weird with intros to other animals. Take their blankets, maybe switch their blankets out, have them smell each other through a door to get used to each other before meeting. Make sure to do it nice and slow and definitely keep them away from the christmas tree if you want to keep your christmas trees vertical!
Dogs, you are going to want to introduce them in a neutral area, maybe outside on a walk.
To learn more about introducing your pet to a new one, go to our Check Up with Blum article on that topic!
What happens if the animal doesn't get along with my pet?
We always recommended keeping them separate so you can kind of feel that out before anything bad happens. If it really doesn't work out that's fine, the foster can always be brought back to the shelter and we can house them until we find another foster. The homes that don't have animals are really blessings so that we can just send any animal that needs to go there.
Why is it preferable for a pet to be fostered for the holidays as opposed to staying in the shelter?
It gets them out and into the family environment. Picture an animal in a cage versus an animal in a home. It's nice for them to get that socialization. Our volunteers and our staff try their best to get around to everybody to try to show them that love that they need, but they are just not getting that personalized attention that they would be getting if they were in a home. It's really good for their sanity. If they're in a cage for too long their mental health can decline. It's nice to give them a break, long walks, and that home feeling.
Do you have success stories of pets who were fostered over the holidays in past? Where are they now?
This time last year one of our field service agents received a call. There was this cat, Sinbad, he was dragging around 5lbs of extra hair, maggots, he couldn't even walk because his muscles were atrophied. He was in really bad shape, so we brought him into our facility. It took 2 grooming sessions to get all the hair off. He could barely stand when all his hair was off, but he was really friendly. He wasn't used to the socialization, but he definitely liked to be touched because that wasn't something he was used to. Our Manager, Elliot did not have any pets, so we convinced him to take him home for Christmas. Elliot was going to foster Sinbad until we found a home for him, but he became too attached! He is now the father of Sinbad! It's nice because we get to see Sinbad sometimes when he comes in for haircuts and nail trimmings.
You can find Sinbad on Instagram @sinbadthesurvior and read more about his story HERE.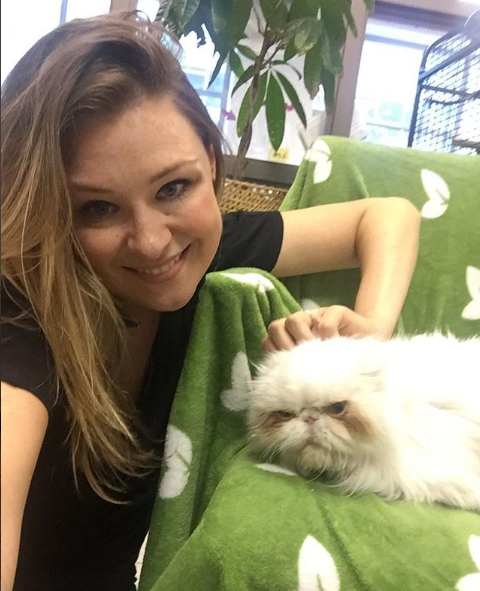 What are the benefits to a foster parent when they foster during the holiday season?
You can always donate money or any kind of donation, but when you bring an animal to your home, you see how tense and worried they are. By the time you bring them back to the shelter, they're happy and relaxed. You really get to see that change in the animal. If they're sick and you nurse them back to health, it's not something you get to do very often in any other outlet. Seeing the difference that a loving foster home can make to an animal that perhaps hasn't had a loving home before is really amazing.
I am not allowed to have pets in my building. What are some other ways I can help The Anti-Cruelty Society this holiday season?
We are always looking for donations of wet canned food for the pickier eaters in our care. You can always be an on-site volunteer as well! Not a lot of shelters do this, but you can actually walk our dogs and take them out so that they receive the love and socialization that they need. The dogs don't get Christmas off, so the dogs here around the holidays need the walks. We are open to the public during non-holidays, so you can come by and hang out with our animals at those times as well. You can promote adoption on your social media platforms to help spread the word that adoption is always the best option for bringing a new pet into your life!
Animals adopted from the Anti-Cruelty Society come spayed and neutered, with their micro-chip, vaccinations. They have been seen by a vet, you get their name tags, some starter food, and a health policy. Adoption is really the only way to go!
---
Thank you to Tara Laffey at The Anti-Cruelty Society for her insight into fostering a pet for the holidays. We appreciate the hard work of the staff and volunteers at The Anti-Cruelty Society in helping homeless pets find forever homes!
The Anti-Cruelty Society is located at 157 W. Grand Ave and has been on the forefront of animal welfare and humane education ever since it was founded in 1899. To learn more about The Anti-Cruelty Society check out their website!
Windy City Paws is a Chicago dog walker and petsitter committed to providing helpful information to Chicago dog owners through this blog.