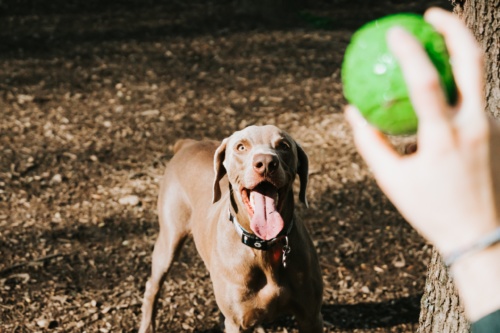 Chicago is filled with a variety of fun neighborhoods to explore for both people and dogs. While walking on leash and exploring different smells around your home can be a great workout for your dog, off-leash play can be a great way to allow your pup to enjoy running and socializing with other dogs. Living in a city can make off-leash play challenging when you do not have access to a backyard. Having a dog-friendly area to visit so that your dog can roam off-leash and enjoy play time with other four legged friends can be a great solution!
There are 30+ dog parks in Chicago, each offering different amenities such as water fountains, double gated entrances, separate small and big dog spaces and more. We wanted to share our Top 5 Chicago Dog Park picks for you to visit with your pup:
Montrose Dog Beach
Neighborhood: Uptown

Montrose dog beach is the largest dog beach and dog friendly area in the city is undoubtedly the most popular as well. Sprawling over 3 acres, there is plenty of space for your dog to run and play with friends from all over the city. Due to the size of this park, it's particularly important that your dog has good recall and basic obedient skills. The park includes a double gate entrance and benches.
Logan Square Dog Park
Neighborhood: Logan Square

Logan Square dog park features separate areas for large and smaller dogs, drinking fountains and plenty of seating for dog owners. Although located directly next to Kennedy Expressway, the Logan Square Dog Park Committee fundraised prior to the parks completion to include a large mural of local pups along the expressway wall, giving color to what would have been a bleak cement wall next to the park. Noise from the roads can be a concern for shy or skittish dogs, but parking is easy to find in the neighborhood surrounding the park. This park features a variety of amenities like drinking fountains, a double gate entrance, separate areas for big and small dogs, benches, asphalt and pea gravel ground covering. 
Skinner Bark Park
Neighborhood: West Loop

Skinner Bark Park is a multidimensional dog park. Artificial turf, cement, and pea gravel features textural differences in the romping area and the three-tier drinking fountains cater to dogs of all sizes. A hose is available to fill water bowls and kiddie pools, and umbrella shaded bench seating helps to provide great areas for socializing.
Lake Shore East Dog Park
Neighborhood: Lake Shore East

Lake Shore East dog park is located along the southern edge of the park in a completely fenced in area. A fun doggie drinking fountain is provided, the artificial turf is ideal for those with allergies, and the surrounding area is filled with plenty of restaurants and walking paths.
PupTown Park
Neighborhood: Uptown

Puptown Park has all of the features to make it a neighborhood favorite. It has plenty of shade, benches and water features during the summer months, and is only a short walk from the Lakefront Trail. The noise from Lake Shore Drive may be bothersome to some and expect lots of company when visiting.
There are many dog parks in Chicago to explore featuring different amenities to accommodate owners as well as large and small breed dogs. There are several other dog parks to visit in the city and some might be located closer to your home than our top 5 picks. Check out our Chicago Dog Park Guide to find more dog parks near you!
Windy City Paws is a Fear Free Chicago dog walker and petsitter committed to providing helpful information to Chicago dog owners through its blog.