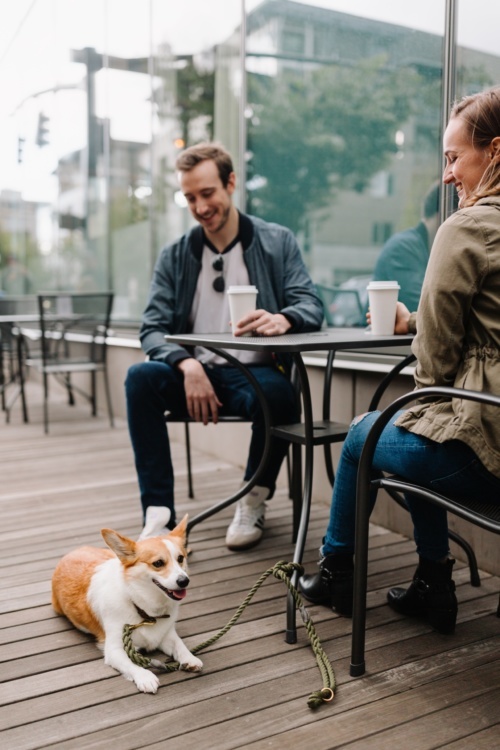 You've probably heard people describe Chicago as a dog-friendly city, and they're right! There are a number of reasons why this honor is well-earned, but one of the coolest reasons is the number of bars and restaurants in Chicago that allow you to dine and drink with your dog. As these establishments begin to reopen in Chicago it's a great time to start planning a visit to pooch-friendly provisioners in your neighborhood or beyond! Check out this list of 20 dog-friendly joints around Chicago. 
While dining out with your dog is an awesome way to enjoy the city and have fun with your animal companion, there are a few things to keep in mind. Read on to learn more helpful tips from our walker Josh R.
Helpful Tips To Keep in Mind When Planning a Dog- Friendly Food and Drink Outing with Your Pup!
When in doubt, call ahead to confirm that dogs are allowed. There is no bigger bummer than to arrive somewhere only to find out that information posted online was inaccurate.

Always keep your dog on-leash with the leash secured. Not only is this the law, but this will help keep your dog safe. The outdoor spaces of restaurants will often be near streets and pedestrian walkways and even the most placid pooch could get unexpectedly startled. A secured leash will keep them out of harm's way.

Consider avoiding peak hours as this can be a calmer more low-key experience.

Make sure your dog comes with a full stomach! Even if your dog is well-behaved you'll be doing them a favor by minimizing the temptation to snack on other people's food.

Bring your own bowls for water. Most restaurants will be more than happy to provide a bowl for your canine companion, but it's always a good idea to bring your own.

If it's hot out, keep an eye on your dog's comfort. They'll almost always be able to find some shade (under the table is a great spot!) but keep an eye out for any signs of overheating.

Plan ahead for what to do if your dog gets anxious or starts acting out. If they just have some extra energy to burn take them on a quick walk while you wait for your food. If that fails you can always ask for a doggie bag and head back home.
Going out to eat with your dog is one of Chicago's most enjoyable activities and with a little bit of planning it's a totally stress-free experience! Check out some of the dog-friendly bars and restaurants in your neighborhood!
We want to thank Josh for his helpful tips to keep in mind when dining out with your pup! Windy City Paws is a Fear Free Chicago dog walker and petsitter committed to providing helpful information to Chicago dog owners through its blog.
Written for Windy City Paws by Josh R.