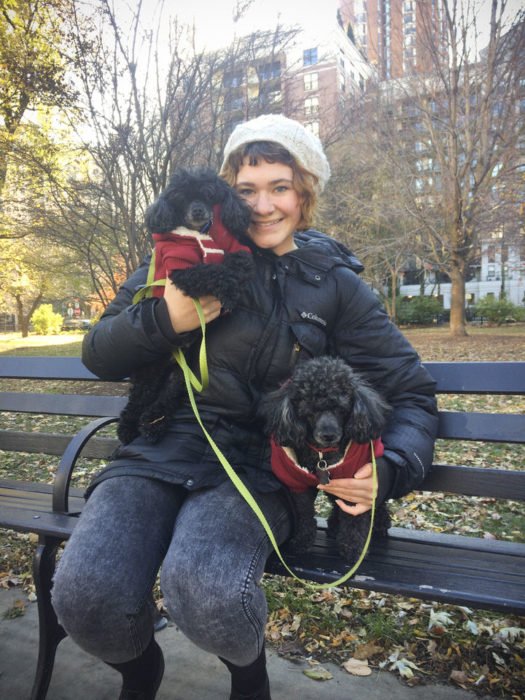 Where are you from?
I am originally from Elkhart, Indiana!
How did you end up in Chicago?
I came here 5 years ago to study Acting and Art History at Columbia College Chicago.
What is your favorite pastime?
I write and perform around the city, but my more leisurely pastimes include watching any documentary I can get my hands on and trying to find the best pad thai in the city.
What is your hidden talent?
I can speak French! I'm also very good at picking up things with my toes? I don't tell people that one. Oops.
Do you have pets? If so, what kind and what are their names? Tell us about their personalities.
I have a cat named Harvey! He is a rag doll mix, big blue eyes, makes all the other cats jealous. Personality: adorable.
If you were a dog, what breed would you be and why?
If we're being honest, I'd be a cat, but a close second would be husky! I also have piercing eyes and enjoy colder weather. We're both fiercely loyal.
If dogs could run for public office, which breed do you think would make the best president?
Golden retrievers! They're so intelligent, and kind, and they always seem to know what's what. They know their duty is to Dog, to be a great dog. Maybe they'd have that same mentality towards being president?
Why did you decide to become a dog walker?
I knew I wanted a job that kept me active, and one where I could enjoy nature. I also could always use the unconditional love!
What's the weirdest thing about being a dog walker?
I think the weirdest part about doing it for a year and a half is you forget (forgive me) picking up poop 5-10 times a day is reality? I'm not even aware of it anymore, and that baffles my friends.
What would people never guess is part of your job as a dog walker?
People are always surprised when I tell them some of the items I've had to take out of dogs' mouths. Personally, I never would have guessed some of the weird/hilarious interactions I've experienced with doormen!
What is your biggest pet peeve while walking dogs?
When people don't ask to pet a dog. Hands down. Nothing new here. Please, please, please ask. It's not even kids who do it; 9 times out of 10 it's adults.
What's the best part about being a dog walker?
Oh, man. Where to begin. It might be one of the only jobs that makes your personal life easier. If you're having a bad day, you know there's an animal beside you who doesn't care about that. They're just happy you're there. And that makes any day better.
---
Thank you so much for all of your hard work, Abigail! If you would like to learn more abut Abigail and our other walkers, visit our walker page!