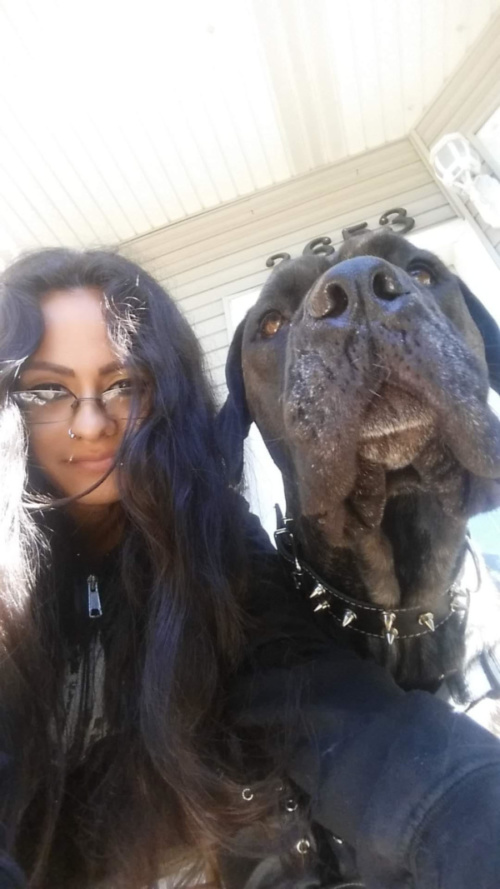 We love our walkers at Windy City Paws, and this month we want to introduce to you to Arelys, who has been with us for a year!
Where are you from?
Greetings! My name is Arelys Jimenez born in Chicago, IL in the Humboldt Park area. I was raised by my Puerto Rican mother, grandmother, and aunt. 
What is your favorite pastime?
I've always been passionate about art, music, science, singing, performing, nature, and animals since I was a child.I have an art background which consist of drawing, graphic design, character designer, etc.
What is your hidden talent?
I manage and sing in my own metal band and we have released our first album May 17th, 2018. I also create the stage production and outfits for my band's live performances.
How long have you worked with animals?
I have 12 years working professionally with animals as a dog trainer, dog handler, vet assistant, animal care specialist, dog sitter, and a dog walker.
Do you have pets? If so, what kind and what are their names? Tell us about their personalities.
On August 13, 2016, I adopted  a  6 month old Cane Corso named Ilsa from the Anti-Cruelty Society. She is now 4.5 years old and she is the sweetest, silliest, gentle giant, and is adored by everyone. There is nothing that girl does not like. She adores kids, babies, dogs, cats, reptiles, you name it! She loves waking me up by slapping me on the face or by staring at me all morning until I wake up from her creepy stares. Like, who needs an alarm clock right? She loves nudging everyone for butt scratches and thinks every dog likes her even the ones thats want nothing to do with her. If you ever want to know who the neediest biggest derp in the world is that would be Ilsa.
If you were a dog, what breed would you be and why?
If I were a dog I would be a Doberman because of their intelligence, energy, fearless alert attitude, loyalty, and confidence.
Why did you decide to become a dog walker?
I became a dog walker because I can't imagine my life without dogs. Dogs do the silliest things that make me laugh and I love the outdoors.
What is your biggest pet peeve while walking dogs?
The biggest pet peeve while walking dogs is seeing other walkers not paying attention and not having control of the dogs they are walking. Some people walk their dogs off leash which can turn into a dangerous situation as well.
What is the best part of being a dog walker?
I enjoy every dog's unique personality as well.
That is a little about me and thank you for getting to know me!
---
Thank you so much for all of your hard work Arelys! If you would like to learn more about Arelys and our other fantastic dog walkers, visit our website!