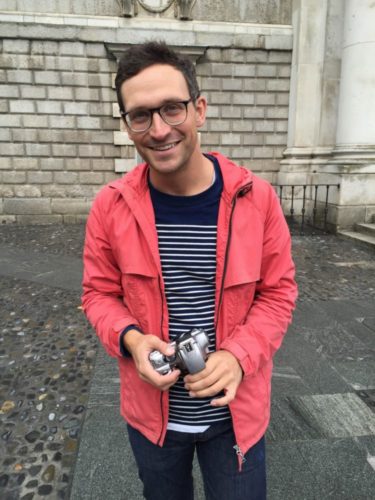 Joe has been on the Windy City Paws team as a dog walker for nearly four years! He recently took a step back from his regular route to pursue his career goals, but we are so glad to still have him on as a backup walker because he has been such an integral part of our team for so long!
We asked Joe a few questions about himself and his thoughts on being a dog walker, and his answers are below!
---
Where are you from?
The woods somewhere around Milwaukee.
How did you end up in Chicago?
I came down for college, or at least that's what I told my parents.
What is your favorite pastime?
Reading books that'd bore the pants off you, and then bore 'em right back on.
What is your hidden talent?
I can make a campfire in any weather and then I can cook delicious food over aforementioned campfire. I'm pretty confident I could build a campfire under water if I needed to.
Do you have pets? If so, what kind and what are their names? Tell us about their personalities.
No pets but I have a roommate who's fairly nice. And some very mercurial plants.
If you were a dog, what breed would you be and why?
I'd like to be some sort of working dog, maybe a Koolie. I'm not much of a lounger.
If dogs could run for public office, which breed do you think would make the best president?
I don't think any dog would be a very good president. Too much time wasted on belly rubs that would be better spent hashing out policy. Also, and I'm no expert, but I don't think it'd even be legal for a dog to be president.
Why did you decide to become a dog walker?
I wanted to work outside and only spend my day with people I like. (Or non-people. Whatever.)
What's the weirdest thing about being a dog walker?
How jealous everyone is. It's the only job that people are genuinely interested in the answer when they ask about my day.
What would people never guess is part of your job as a dog walker?
Like, the sheer tonnage of poop?
What is your biggest pet peeve while walking dogs?
It's churlish I know, but I hate when strangers come up and say hi to the dog but don't acknowledge me. I don't know why anybody thinks that's cool.
What's the best part about being a dog walker?
Call me old fashioned, but I just kind of like dogs.
---
If you'd like to learn more about Joe, you can see his profile on our walker page.
Thank you for being such an amazing walker and wonderful addition to our team, Joe!