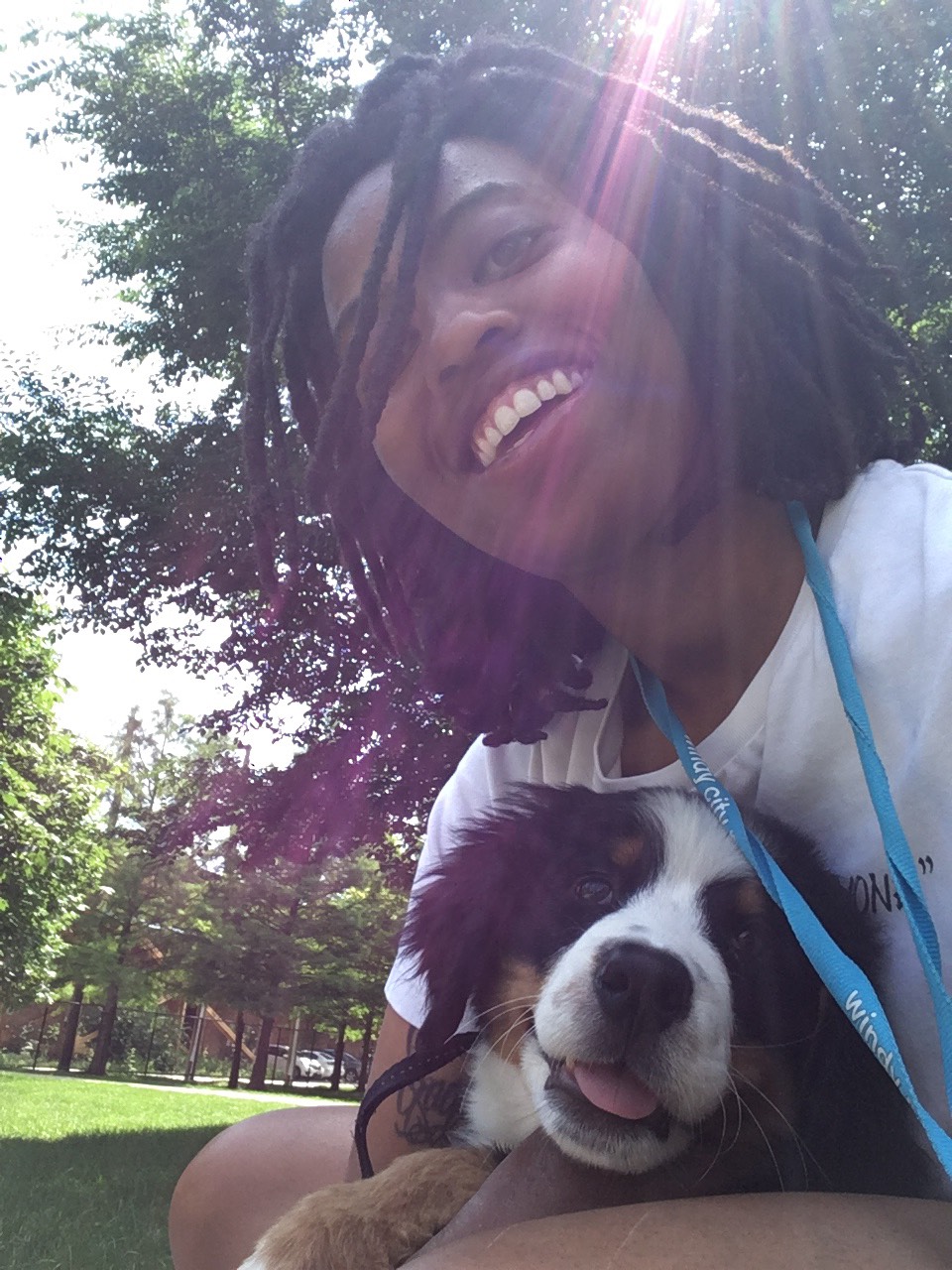 We love our walkers at Windy City Paws, and this month we want to introduce to you to Paige, who has been with us for a year!
Where are you from?
I'm from Chicago, born and raised.
What is your favorite pastime?
My favorite pastimes are reading fashion history books, watching documentaries and going to art museums.
What is your hidden talent?
My hidden talent is that I am pretty good at cooking.
Do you have pets? If so, what kind and what are their names? Tell us about their personalities.
I have a senior beagle named Rocky. His personality trait is destructive. Whatever he can get into and mess up, he will make sure he does just that. He is a sweet natured dog though. He loves milk bones and will do anything for one. 
If you were a dog, what breed would you be and why?
If I were a dog I'd be a Bernese Mountain dog or maybe a mixed breed thats a combination of many doggos. 
If dogs could run for public office, which breed do you think would make the best president?
Too bad dogs can't be president! The breed best fit for presidency would have to be Bernese Mountain dogs because they're loyal and listen. In order to be a good president you should be loyal to the land of the free and listen to the citizens. 🙂
Why did you decide to become a dog walker?
I decided to become a dog walker because I love dogs and being outdoors. 
What's the weirdest thing about being a dog walker?
The weirdest thing about being a dog walker is how much trust clients and the company give you. It felt odd when I first started the job and had client's home keys, but had actually never met the clients.
What would people never guess is part of your job as a dog walker?
Some people would never guess that occasionally I have to make the dog's lunch/dinner or bring in client's mail deliveries. Walkers have to do a lot more than simply walk the dogs. 
What is your biggest pet peeve while walking dogs?
My biggest pet peeve I have while walking dogs is how some people stop to pet the dog I'm walking without ever asking permission.
What's the best part about being a dog walker?
The best part of being a dog walker are the dogs. I get really attached to many of them. I sort of think of myself as a big sister to them. The 30 minute walks go by so fast that I find myself thinking of them and missing them. Also, some clients have babies and it's really cute to see the stages of their growth- from just being a little blob that sits there, to learning how to walk and say words.  
---
Thank you so much for all of your hard work, Paige! If you would like to learn more about Paige and our other fantastic dog walkers, visit our website!