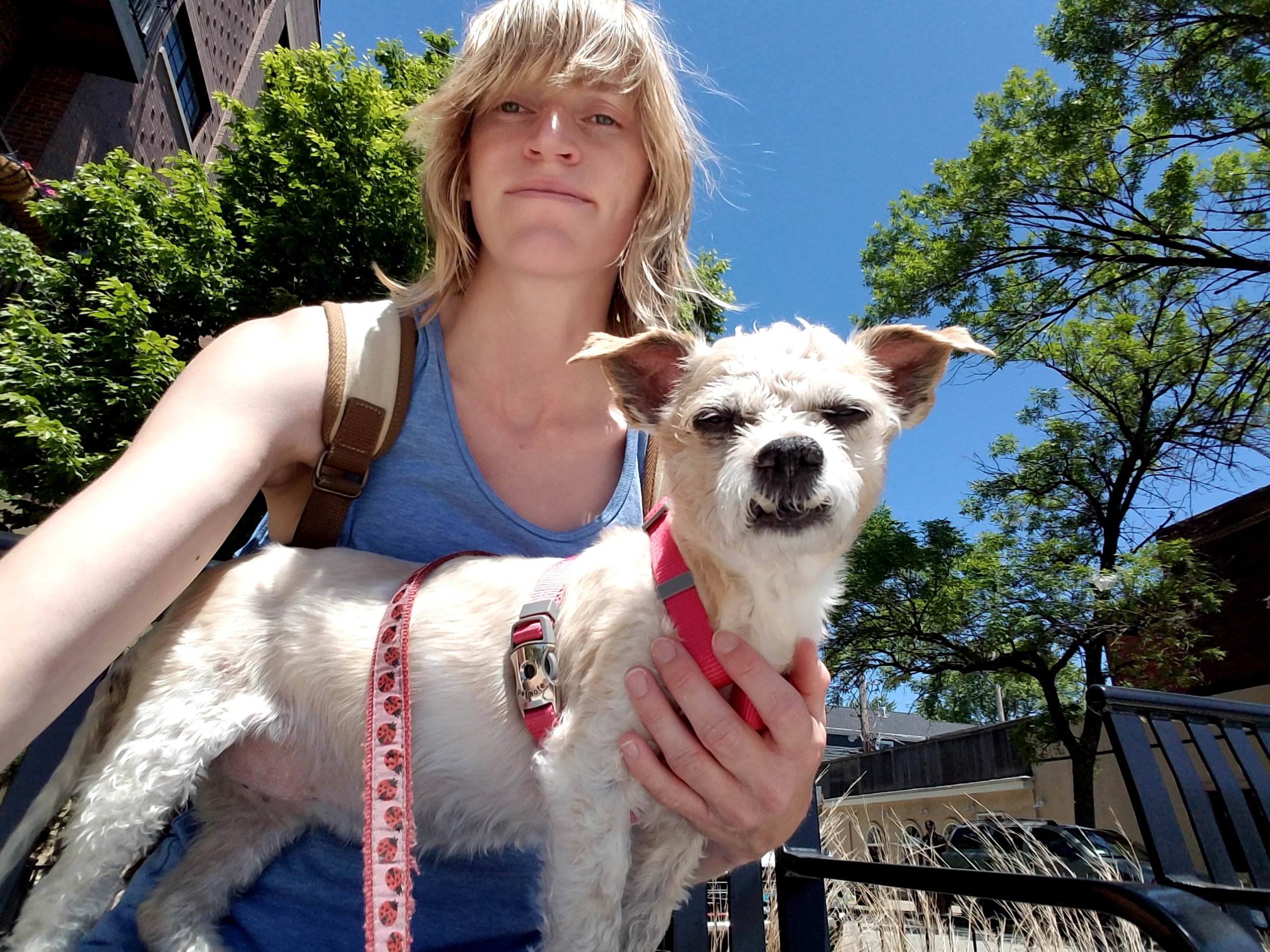 We love our walkers at Windy City Paws, and this month we want to introduce to you to Stella, who has been with us for a year!
Where are you from?
I lived in Chicago when I was little, but have lived in the west suburbs for most of my life until recently.
How did you end up in Chicago?
I have always wanted to experience living in the city, so I moved out here with my partner in 2016.

What is your favorite pastime?
It's hard to pick one favorite! I enjoy most forms of art, and creating things.

What is your hidden talent?
I can make mac and cheese without looking at the directions.

Do you have pets? If so, what kind and what are their names? Tell us about their personalities.
I have several reptiles and two cats. My cats are named Laika (the first dog in space) and Lo (the mythological Grecian lady). Lo loves cuddling on me at all times, and is a connoisseur of wet food. Laika is devious, and enjoys deconstructing the couch to make a fort. Among my reptiles is Fernando, the bearded dragon. He fancies soft blankets, and watching cars pass from the window sill. My other reptiles mostly just like food, and burrowing.  
If you were a dog, what breed would you be and why?
If I were a dog I would be a whippet because I have bursts of energy followed by hours of lounging.
If dogs could run for public office, which breed do you think would make the best president?
I think a golden retriever would make the best president! They are always friendly; I imagine them being very diplomatic and compassionate in office. Golden Retriever 2020!
Why did you decide to become a dog walker?
I decided to become a dog walker because I love dogs, of course! It also seemed like a great opportunity to get to know the area.
What's the weirdest thing about being a dog walker?
Some of those high-quality jerky dog treats actually smell pretty delicious.
What would people never guess is part of your job as a dog walker?
Dog photography is a lot bigger part of our job than you'd expect. I've expanded my weird noise vocabulary trying to get pups to look at the camera!
What is your biggest pet peeve while walking dogs?
When people don't pick up their dog's poop!!  I am cursed with terrible luck when it comes to stepping in dog poop.
What's the best part about being a dog walker?
I love being an exciting part of each dog's day!  It's wonderful to receive so many happy greetings!
---
Thank you so much for all of your hard work, Stella! If you would like to learn more about Stella and our other fantastic dog walkers, visit our website!