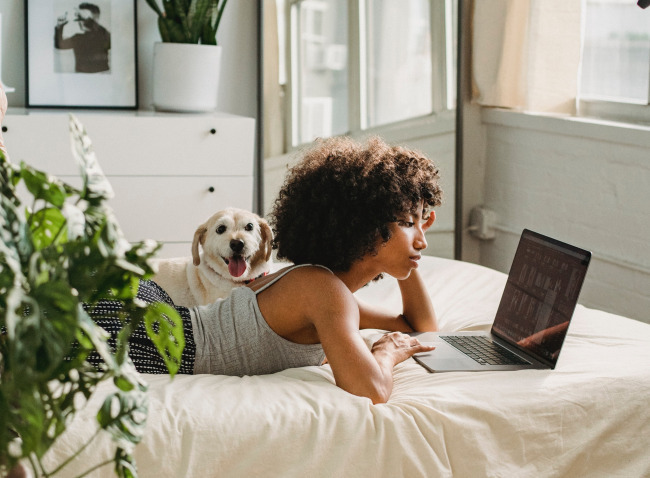 Are you planning to visit family over the coming holidays? Unless you plan to stay with family or friends, finding a hotel that can accommodate you and your pet can feel like a daunting task. Luckily, we can walk you step-by-step through the process of finding a pet-friendly hotel. With this guide, you should be able to make the best decision whether the hotel you're looking for will be as relaxing for your pet as it will be for you!
Call Ahead to Verify their Pet Policies
Now, my heart also goes pit-a-pat when faced with having a real live conversation with someone over the phone. But phone calls are going to be hands-down your best source of accurate information when looking for a pet-friendly hotel room. Check their policy online first (BringFido.com has a well-rounded database of pet-friendly hotels) but speak to a receptionist for complete information.
Why is this? Because most hotels have individual pet policies depending on the management and local preferences. Even most hotel chains don't have blanket pet policies. Not to mention that online information can be outdated, in or out of your pet's favor. Whenever possible, call ahead to verify critical questions about their pet policy before booking.
Restrictions & Fees
Once you have the receptionist on the line and verified they have a pet policy, you'll ask them the first few key questions: 
Are there restrictions on how many or what kind of pets they allow?

Are there additional fees for having a pet?
Again, each hotel sets its own guidelines. Many luxury hotels in Chicago accommodate two pets of any size and breed for free. Yet other hotels may be more restrictive. Make sure they allow however many pets you have, and that the breed, size, and weight of your pet(s) are permitted. 
Some hotels will include hidden fees for rooming with pets. Check if there's an upcharge or additional fees/deposits for cleaning. If there's a cleaning deposit (in the event of a mess or damaged furniture), is it refundable at the end of your stay? Do I have to sign any forms taking blanket responsibility for any damage?
If you end up paying a deposit or signing a waiver, make a point to take photos of your room before checkout. This way you can cover yourself in the event your deposit isn't refunded, or they bill you for repairs not caused by your pet!
If you're a cat owner, verify that the hotel permits cats under their pet policy! It's scandalous to think, but some hotels don't allow friendly felines.
How Much Freedom Will My Pet Have at the Hotel?
Once you've verified that your pet is allowed in the room and if there are additional fees to expect, the following questions will clarify how much freedom your pet can enjoy during your stay. Some hotels allow pets… as long as they're leashed or kenneled at all times while in the room. Not too ideal. A highly pet-friendly hotel will be accommodating with your pet's freedom. While in the room, can your dog be on the bed or other furniture? If so, does the hotel provide additional protective sheets to protect their furniture? Can the pet be left unattended in the room?
Ask where your pet is permitted on the property: if you can bring your pet through the dining room, the front entrance, the pool deck (anticipate the hotel will not let your pet swim in the pool), and so on. We recommend keeping your dog on a leash while outside your room. This acts as a sign of good faith to the staff and other guests unfamiliar with your pet. 
Some luxury hotels will feature pet relief areas or dog runs. If the hotel doesn't have these features, ask where you can take your dog to relieve themselves outside the property. Are there recommended pedestrian walking paths or trails nearby? 
Whenever possible, it's generally a good idea to get a room on the ground floor (or as close as possible), and near an exit, in the event, your dog really needs to go. Your pup will thank you for giving them easy access to a bathroom!
Accommodations
Lastly, inquire what additional amenities the hotel provides for pets. Some hotels will provide beds, eating and drinking bowls, waste bags, and sometimes treats. Some truly swanky locations will have luxury services like dog spas, walkers and sitters, dog food menus, even scheduled dog meet-ups! 
In any event, bringing with you as much of your pet's equipment from home is a good idea, particularly if your dog finds traveling stressful. A familiar food bowl, bed, blanket, and toy can be soothing to a dog reorienting to an unfamiliar location. 
Thank you, Nate, for these helpful tips on finding dog-friendly hotels! Windy City Paws is a Fear Free Chicago dog walker and petsitter committed to providing helpful information to Chicago dog owners through its blog.