Training Walks: Building skills for city walking
Walkers with internal Paws-First training certification
Great for dogs with anxiety or having trouble adjusting
Dogs learn 8 Paws-First Training Cornerstones
Report cards keep you updated on progress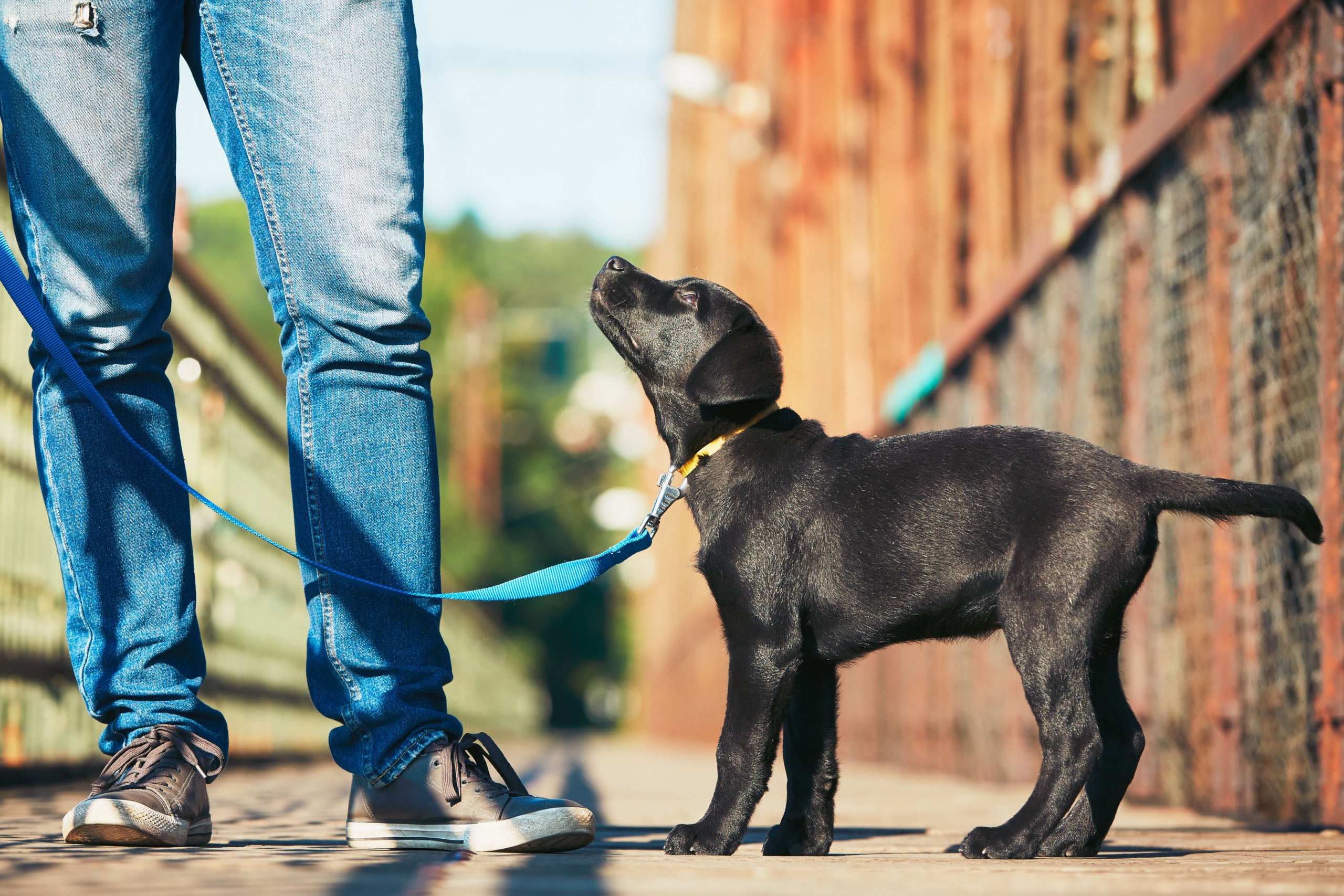 We'll put in the work so you can relax and enjoy your pup!
Behavior improvements you'll love and techniques you can easily use
We know you'd like to have a relaxing and enjoyable walk around the neighborhood with your dog before and after work. With a few months of Paws-First Training Walks, you'll see a noticeable difference in your dog's behavior and be able to continue fostering good behavior through simple commands and positive reinforcement.

Ideal for dogs needing extra assistance and patience with basic training
Whether you've adopted a new dog, have yet to lay down a training foundation, or you've tried training on your own and have gotten frustrated, we're here to help! 
More than a routine dog walk
While all of our walks reinforce basic commands and good leash etiquette, a Training Walk is a working walk where more is expected from both the dog and the walker. Our Paws-First walkers are internally certified to work on our 8 Paws-First Training Cornerstones. Paws-First Training walkers are actively engaged in teaching and positively rewarding your dog. 
Tracking your dog's success
You'll get detailed progress report cards, photos, and milestone achievements after each service. You're even welcome to join on the walks if you wish! Most clients utilize this service for one to three months until they feel ready to transition to routine daily walks. 
Training Walk Service Details
Price per service: $40 for 30 mins

This service is available Monday-Friday 8am-4pm

Same Paws-First certified walker every day

Requires a recurring ongoing schedule of 3 days/week and the same 2-hour arrival window each day (ex: 11am-1pm)
Our Paws-First Training Cornerstones
Sit
Lays the groundwork for good manners and is a great default behavior while waiting at a crosswalk or in your home to reduce jumping.
Down
Helps the dog to relax, and is a comfortable position for them to be in. This command blends easily into a stay command for dogs.
Touch
Great focus exercise and helps with recall as dogs need to return to you to perform the task. This can be used to teach more complex tricks and commands!
Loose-Leash Walking
Reduces the risk of strain on both you and your dog, helps to reduce pulling, and increases safety on walks! This is also a great one to help with impulse control while out and about.
Watch Me
Desensitizes eye contact, something dogs may naturally get nervous about, and can help calm when your dog starts to get overstimulated in the home or out on walks!
Potty Training
We can help your pup get into a regular potty break schedule and reinforce good behaviors while working to eliminate bad ones, such as peeing on a rug or carpet in the home.
Drop It
Helps to reduce the risk of resource guarding and to prevent frustration in your pup. Great for creating a positive association with giving up objects a dog shouldn't be picking up, and it can be incorporated into games with the pup such as fetch and tug!
Positive Reinforcement Equipment Training
Wish it were easier getting equipment on your pup? We can help get your dog comfortable using any gear you need (such as harnesses, gentle leads, boots, or coats) using positive reinforcement and Fear Free methods.