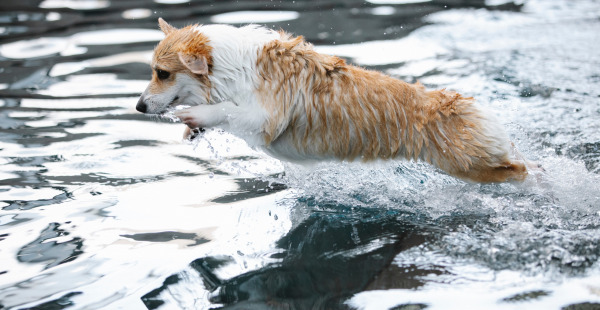 October is here, but the sun is still out, shining, and beautiful (while it lasts!) If you're still eager to get some quality time to cool off with your dog, Nathaniel is here with us to share some of Chicago's favorite indoor and outdoor swimming holes!
Outdoor Swimming 
While you may see many folks bring their pets to Chicago's public beaches, there are in fact just two public areas where dogs are allowed to roam and swim: Montrose Beach, and Belmont Harbor. 
In order to use the public dog beaches, make sure to have a tag, a dog-friendly area permit, and up-to-date immunization records for your dog/s. All of this is to let other owners and relevant authorities know that your pet is healthy while interacting with other dogs. 
To get a Dog-Friendly Area Permit, visit any number of these participating veterinarians and fill out an application. Permits are just $10 per dog — a small price to pay, since fines for dogs without a permit can be as high as $500!
For more, check out our previous article on bringing your dog to the beach!
610 West Lawrence Avenue, Chicago IL 60640
The largest and perhaps most popular public dog beach in the city! Montrose Beach is an official off-leash area, and popular for its sheer size plus nearby access to amenities, such as a paid dog wash station and food trucks.
3500 N Lake Shore Dr, Chicago IL 60686
Located on the southern end of Belmont Harbor off the lakefront biking/pedestrian trail, the Belmont Harbor dog beach is a smaller beach that's perfect for dogs that might be shyer to the sprawling Montrose Beach park. 
Indoor Swimming
Beyond the public dog beaches, there are indoor options to bring your dog! These options are excellent if your pet thrives in a more controlled environment or is new to swimming.
Petcare Plus Resort 
350 N. Laflin St. Chicago, IL 606067
The Petcare Plus Resort & Spa center offers Saturday Socials, where dogs can open swim at their pool from 10am-Noon every Saturday. The pool and indoor turf yard are open from April through the end of October, and Petcare Plus accepts advance reservations.
Doggy Paddle Aquatic Center for Dogs
1430 W Willow St. Chicago, IL 60642
Doggy Paddle is an indoor aquatic fitness center and daycare for dogs. This indoor dog-friendly pool is intended as a fitness and daycare center for dogs learning how to swim for the first time, who need a low-impact fitness alternative, or for a luxurious daytime getaway!
…And Beyond! 
Looking to make a getaway from the city? Here are a few dog-friendly swimming spots just outside the city limits. For all these areas, permits are required! Make sure to purchase a permit before enjoying any of these areas.
Independence Grove Dog Park
31531 N Milwaukee Ave, Libertyville, IL 60048
This enclosed, 30-acre dog park in Libertyville, IL lies right next to the Independence Grove Forest Preserve, and allows access to a sizeable lake that's perfect for cooling off or playing a few rounds of swimming fetch!
Prairie Wolf Dog Park
1917-2075 S Waukegan Rd, Lake Forest, IL 60045
This outdoor dog park is easily the largest dog park on this list at 44 full acres of fun! Complete with a drinking fountain, access to trailheads, restrooms, and a dog-friendly pond at the east side of the park, this outdoor canine wonderland might just be your dog's new favorite home away from home.
Beck Lake Dog-Friendly Area
East River Rd & Central Road, Des Plaines, IL 60016
This dog-friendly, designated off-leash area not only boasts up to 40 acres of outdoor play space, it also features a large pond where your dog can make a splash! After drying off, take advantage of the nearby trailheads where up to nine miles of walking trails await.
Thank you, Nathaniel, for this shortlist of options where pups can swim safely and legally! Windy City Paws is a Chicago dog walker and petsitter committed to providing helpful information to Chicago dog and cat owners through its blog.