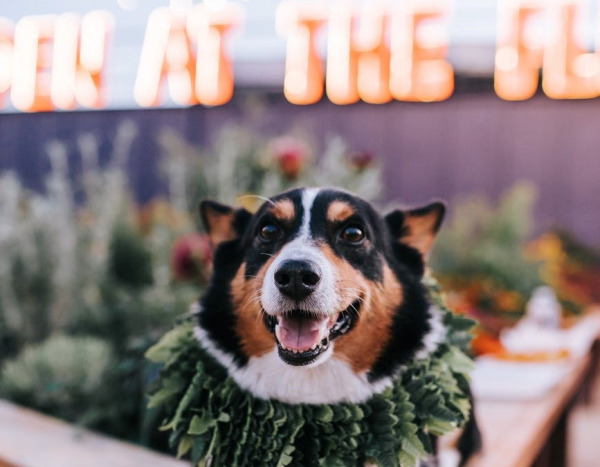 Beermiscuous 
2812 N Lincoln Ave | (773) 698-6824
Website
A little burnt out on the usual bar scene? Beermiscuous in Lakeview takes the coffeehouse approach and creates a casual atmosphere to chill, catch up with friends, and sample the massive variety of local brews on tap and available to-go. If you're paralyzed by choice, create a sample flight or pick any of the beerista's brains to find which of their offerings is going to hit the spot. 
Dovetail 
1800 W Belle Plaine| (773) 683-1414
Website
Windy City Paws loves the Dovetail Brewing Co.! We're happy to report they are open and dog-friendly. Check out our profile on Dovetail for more in-depth information. 
Fireside 
5739 N Ravenswood Ave, Chicago, IL 60660 | (773) 561-7433
Website
The Fireside restaurant & lounge is something special. Tucked away in a quiet spot by the Ravenswood tracks, with its ivy-covered all-weather patio, sports bar, restaurant, and front cafe seating— Fireside offers every kind of experience you could want from a bar. Pets are permitted in the front cafe patio area. 
Haymarket Brew Pub 
737 W Randolph St. | (312) 638-0700
Website
This Michigan transplant in the West Loop features an extensive menu with sausages, pizzas, and beers a-plenty! Haymarket describes their beers as flavor-forward, drawing on Belgian styles for inspiration, specializing particularly in barrel-aged brews. 
Half Acre Brewing Co. — Balmoral Brewery 
2050 W Balmoral Ave | (773) 754-8488
Website
This location by these renowned local brewers features their outdoor beer garden and rotating beer menu. The beer garden accepts reservations and has plenty of space to have a brew next to your pup! You can enjoy their standards, or take a walk on the wild side and try their Wyld mixed culture beer, specially fermented to create a new world of flavors. Keep in mind that reservations are limited to a two-hour stay to abide by covid restrictions, so make sure to get a six-pack to go!
Metropolitan Brewing Co
3057 N Rockwell St | (773) 754-0494
Website
With one of the best patio views, the Metropolitan Brewing Co. is sure to be one of the top got-to-go breweries on this list (though we love them all equally). Make sure to hit up their gorgeous riverside patio before the summer ends!
The Northman Beer & Cider Garden 
233 E. Riverwalk | (312) 877-5212
Website
This Loop bar is tucked away below street level by Columbus Drive bridge, right on the riverwalk. Make sure to sample their german-inspired pub fare and peruse their extensive beer, cocktail, and cider menu while watching the riverboats float by. It doesn't get much cozier than this!
Parson's Chicken & Fish 
5721 N Clark St | (773) 654-1141
Website
While you may have visited Parson's in Edgewater, West Loop, or Lincoln Park, this recently-opened location is a new treat for anyone living up in Andersonville. Parson's Chicken & Fish is notable for its roomy patio seating, negroni slushies, and fried chicken that's certain to leave fido begging at the table!
Pilot Project 
2140 North Milwaukee Avenue | (773) 270-5995
Website
Logan Square's Pilot Project likens itself to an independent music label, fostering new talent in the brewing community in every step of the process from tasting to distribution. Visiting, you'll be able to sample beers available nowhere else, featuring new and funky flavors (Hard Kombucha, anyone?). Keep in mind that reservations are for two hours and that dogs are only allowed on their patio.
Off Color Brewing Co., The Mousetrap 
1460 N Kingsbury St | (312) 929-2916
Website
Off Color's beer Apex Predator can be found in most Chicago bars as an essential-and-delicious IPA, but a cursory look at their other offerings shows that this Lincoln Park brewery gets pretty out of this world. To go on a hops-driven journey through Off Color's imagination, make sure to head to their beer garden The Mousetrap, and grab a patio seat with your pup. You might even catch a glimpse of the resident mascot Hops!
Ricochet's Tavern 
4644 North Lincoln | (773) 271-3127
Website
For those who don't want pomp and circumstance when it comes to their local watering hole, Lincoln Square's Ricochet Tavern is as essential and pitch-perfect a Chicago neighborhood sports bar experience as they come. Dogs are welcome inside while you nail the perfect game of darts, catch the game, or just want to unwind after a long day. 
Uncommon Ground 
3800 N Clark St | (773) 929-3680 
Website
While also available in Edgewater, Uncommon Ground's Lakeview location features the Greenstar Brewery, the first certified organic brewery in Illinois. The brewery hosts tours every Saturday at 1pm, so come in on the weekend to grab some of their fantastic organic pub fare on their sidewalk cafe before taking a tour! Tours are $10, with a complimentary pint glass waiting for you at the end!
Weeds Tavern
1555 N Dayton St | (312) 943-7815
Website
This Old Town local hotspot can deceive you with its unassuming facade, but it is a beloved watering hole for a good reason. Unpretentious, homey, and with a sprawling outdoor patio, we hope the Weeds tavern becomes your new favorite as well.