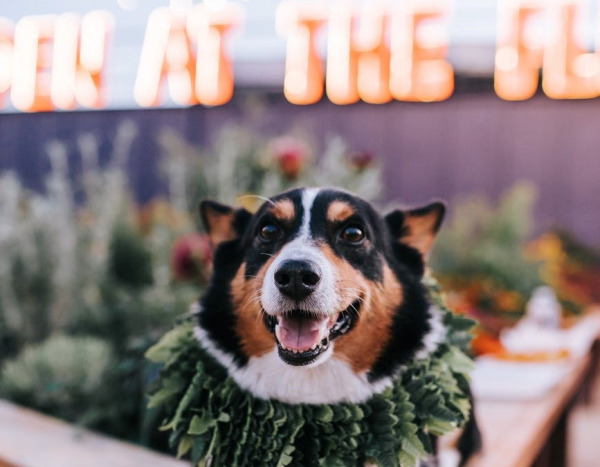 Dovetail 
1800 W Belle Plaine | (773) 683-1414
Website
Windy City Paws loves the Dovetail Brewing Co.! We're happy to report they are open and dog-friendly. Check out our profile on Dovetail for more in-depth information. 
Haymarket Brew Pub 
737 W Randolph St. | (312) 638-0700
Website
This Michigan transplant in the West Loop features an extensive menu with sausages, pizzas, and beers a-plenty! Haymarket describes their beers as flavor-forward, drawing on Belgian styles for inspiration, specializing particularly in barrel-aged brews. 
Half Acre Brewing Co. 
2050 W Balmoral Ave | (773) 754-8488
Website
This location by these renowned local brewers features their outdoor beer garden and rotating beer menu. The beer garden accepts reservations and has plenty of space to have a brew next to your pup! You can enjoy their standards, or take a walk on the wild side and try their Wyld mixed culture beer, especially fermented to create a new world of flavors. Keep in mind that reservations are limited to a two-hour stay to abide by covid restrictions, so make sure to get a six-pack to go!
Metropolitan Brewing Co
3057 N Rockwell St | (773) 754-0494
Website
With one of the best patio views, the Metropolitan Brewing Co. is sure to be one of the top got-to-go breweries on this list (though we love them all equally). Make sure to hit up their gorgeous riverside patio before the summer ends!
Parson's Chicken & Fish 
5721 N Clark St | (773) 654-1141
Website
While you may have visited Parson's in Edgewater, West Loop, or Lincoln Park, this recently-opened location is a new treat for anyone living up in Andersonville. Parson's Chicken & Fish is notable for its roomy patio seating, negroni slushies, and fried chicken that's certain to leave fido begging at the table!
Pilot Project 
2140 North Milwaukee Avenue | (773) 270-5995
Website
Logan Square's Pilot Project likens itself to an independent music label, fostering new talent in the brewing community at every step of the process from tasting to distribution. Visiting, you'll be able to sample beers available nowhere else, featuring new and funky flavors (Hard Kombucha, anyone?). Keep in mind that reservations are for two hours and that dogs are only allowed on their patio.
Off Color Brewing Co., The Mousetrap 
1460 N Kingsbury St | (312) 929-2916
Website
Off Color's beer Apex Predator can be found in most Chicago bars as an essential-and-delicious IPA, but a cursory look at their other offerings shows that this Lincoln Park brewery gets pretty out of this world. To go on a hops-driven journey through Off Color's imagination, make sure to head to their beer garden The Mousetrap, and grab a patio seat with your pup. You might even catch a glimpse of the resident mascot Hops!
The Moonlighter 
3204 W Armitage Ave | (773) 360-8896
Website
The Moonlighter is a low-key hangout that is part of the Scofflaw Group, bordering Chicago's Logan Square and Humboldt Park neighborhoods. Only a few minutes walk from The 606 trail, the Moonlighter features a wide variety of beers, craft cocktails, and laid-back fare. Their patio is dog friendly and a good spot to relax with a drink after a long walk on the 606.
River Shannon 
425 W Armitage Ave | (312) 944-5087
Website
A Lincoln Park staple for over 70 years, River Shannon is a classic Chicago Irish Pub! As long as your dog is on a leash, your pups can hang out with you while you catch a game or enjoy a pint. There's always free popcorn and it's a short walk to one of Chicago's most iconic parks – Lincoln Park.
Bucktown Pub
1658 W Cortland Ave | (773) 394-9898
Website
A hidden gem in the Bucktown neighborhood, dogs are welcome inside and outside. They also have a beer garden. They host weekly trivia on Thursday at 8 PM and large bowls of popcorn are always free! Bucktown Pub is only a 5-minute walk from The 606 and Walsh Dog Park.
Cody's Public House
1658 W Barry Ave | (773) 799-8217
Website
Cody's Public House is dog-friendly year-round and is open every day of the week. A great spot to catch a game, they have multiple tap beers, a beer garden, darts, and pool tables. A stellar spot to hang with your pup and make new friends while cheering for your favorite Chicago team. In addition, the Hamlin Park dog-friendly area is only a 10-minute walk.
Clark Street Ale House
742 N Clark | (312) 642-9253
Website
This dog-friendly bar in River North, built in the 1800s, is a great spot for beer and whiskey aficionados alike! Boasting a selection of over 300 whiskeys, this is a great place to bring your dog (allowed inside and outside!) to try out some new beverages while playing some Bocci ball.
Alarmist Brewing
4055 W. Peterson Ave | (773) 681-0877
Website
This dog-friendly brewery is located near North Park University and is both dog and child friendly! Boasting a large taproom and outdoor patio space, this northside spot is perfect for the dog/beer lover in your life. Their "Le Jus" NEIPA won the first-ever GABF Gold Medal for Hazy/Juicy IPA in 2018. They also have wine and cocktails for those that prefer an alternative to beer.
Lo-Rez Brewing
2101 South Carpenter | (888) 404-2262
Website
Established in 2016, Lo-Rez Brewing is located in the Pilsen neighborhood and only a 5-minute drive from the University Village Dog Park. Their taproom and patio are both dog friendly, making it an ideal spot to take a break with a board game or play some darts after you and fido burn some calories at the park!
Midwest Coast Brewing
2137 W Walnut St | (312) 361-1176
Website
Located in West Town, this dog-friendly brewery welcomes dogs inside their taproom and on their patio. You are welcome to bring your own food, but local food trucks are a typical occurrence. Closed on Mondays, they are open the rest of the week. They also have an annual Mug Club where you can meet and socialize with other Chicago dog owners.
The Corner Bar
2224 N Leavitt St | (773) 697-9934
Website
Tucked inside a residential neighborhood, this no-frills Bucktown watering hole is dog friendly inside and outside. Stop in if you're looking for new friends that live in the neighborhood or catch a game with a shot of Malort, a true Chicago classic.
Lizard's Liquid Lounge
3058 W. Irving Park Road | (773) 463-7599
Website
Located in Albany Park, Lizard's Liquid Lounge welcomes all dogs inside their bar, and even has a few tasty treats for them! Featuring darts, live music, and great artwork by local artists, Lizard's is a great place to kick back and relax after burning some energy at Horner Dog Park, which is only a 10 minute walk away.