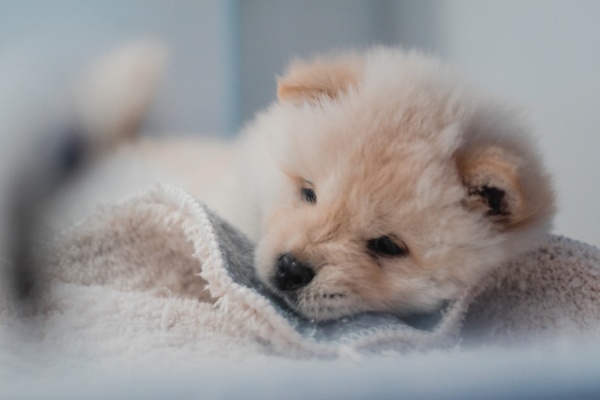 Bringing home a new puppy is very exciting. However, before getting a puppy there are many things one should consider to help ease the transition. Our walker Garrett H. who not only has had his own pup, but who has assisted dog walking clients with building a routine for their new puppies, has provided some great insight into how to prepare for this new journey. Read on to learn more about essential items to consider prior to bringing your new puppy home to help set you up for success as a new puppy parent!
First, what are some simple things I can do to puppy-proof my home?
Hide electrical cords

Place household plants out of reach

Purchase a trash can with a locking lid or keep it behind closed doors

Keep small household items out of reach

Place human food out of reach

Keep all medications in a safe place
What are some essential items to consider for a new puppy?
Crate/playpen

Puppy food 

Collar or harness

Leash

ID Tag

Food/Water

bowls

Puppy appropriate toys

Training treats

Health/grooming supplies (Paw wipes, brush, meds, shampoo, etc.)

Cleaning supplies for accidents
What are some essential services I should consider for my new puppy?
Dog trainer

Dog pet sitter
Having a prepared list of essential services is important to have for your new puppy. Doing your research ahead of time will be helpful for when the time comes and you need to book a vet visit, pet sitter, dog walker, or a grooming appointment and you will already have vetted your top choices!
Finding a dog walker who provides the same walker for every visit will be essential for your puppy to build a routine by having someone stop by within the same time frame each day. This will be helpful with potty training as well as providing consistency and having someone reinforce your preferred training techniques. Windy City Paws is a Fear Free Chicago dog walker and petsitter. Contact us to set up dog walking services for your pup!
What should I consider when it comes to starting training a new puppy? 
Puppies can start learning basic commands such as sit, down, and stay at 7-8 weeks. While puppies are a bit younger, training sessions should be brief, but consistent. If you do not personally have the time to commit to training a puppy, another option would be to invest in a certified dog trainer. It is important to stay up to date with your puppies training. Check out more resources from VCA Blum Animal Hospital regarding house training your pup and more milestones to keep in mind!
What about when it comes time to teach a puppy how to walk on a leash?
When it's time to walk a puppy, three things in mind: Patience, patience, and patience. You'll want to start by introducing your puppy to the leash and collar. Have the puppy wear the collar and leash inside for short periods, and reward with treats. This will help the dog associate the equipment with happiness and food. Practice inside, then eventually move it to the outside. When teaching your puppy to walk, avoid yanking or pulling. You never want to use negative reinforcement. Positive reinforcement will provide better results. If the puppy is lunging or pulling toward something, try redirecting their attention to something better. Having your dog walker follow the same leash training will be incredibly helpful for your pup to practice consistency.
Raising a new puppy is a big responsibility. It is important to take into consideration different breeds that will suit your personality and lifestyle. Overall, make sure to keep in mind that you are ready to take on the commitment!
Windy City Paws is a Fear Free Chicago dog walker and petsitter committed to providing helpful information to Chicago dog owners through its blog. Thank you Garrett for your insight and tips for how to prepare for a new puppy!
Written for Windy City Paws by Garrett Haley