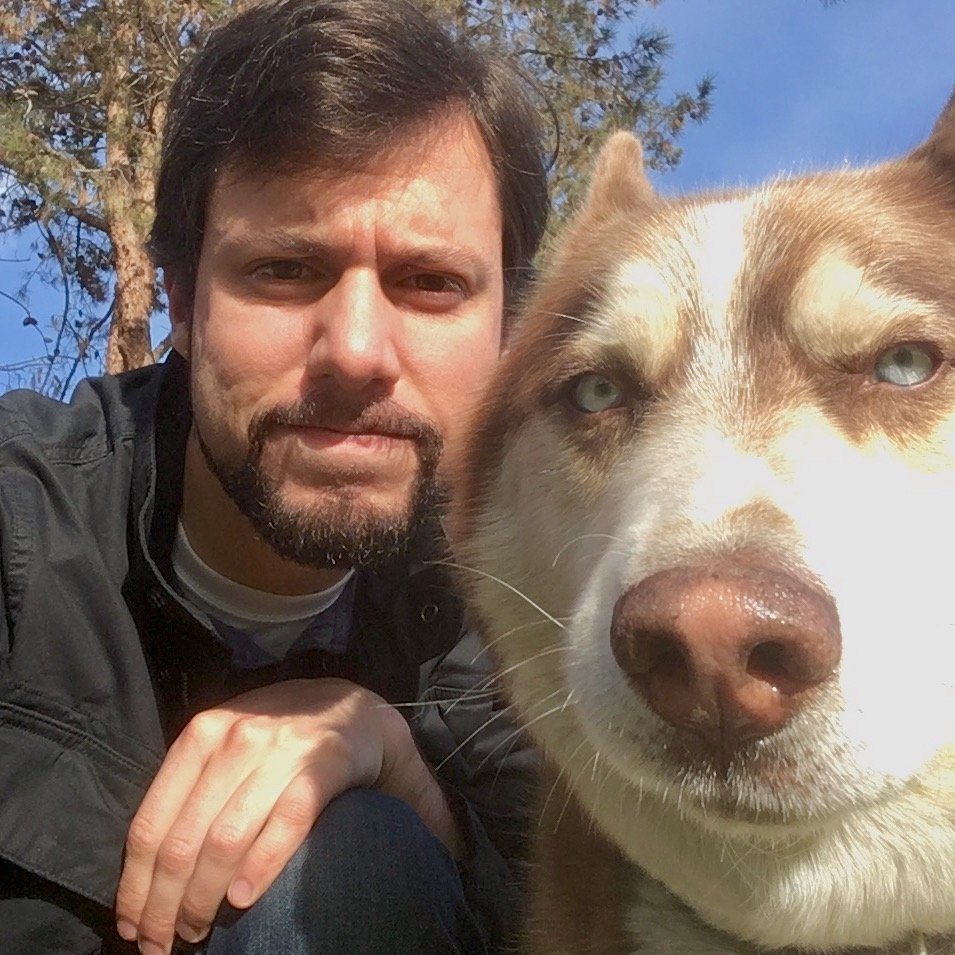 Where are you from?
I'm originally from Santa Barbara, CA.

How did you end up in Chicago?
I moved here pretty soon after college to pursue acting and improv because I think LA is kind of gross.

What is your favorite pastime?
In my limited free time, I like to play video games or re-watch the first season of Westworld so I can wildly theorize about what's next.

What is your hidden talent?
I don't think I have any truly hidden talents; I think all talents should be marketed and capitalized upon. But the one that surprises people most is that I play a pretty mean harmonica.

Do you have pets? If so, what kind and what are their names? Tell us about their personalities.
YES. Kind of. My boy Yukon is a Siberian Husky who lives back in CA. He likes to pretend he's mad at me when I see him (after his initial excitement) because he's jealous that I spend so much time in the snow and he's never seen it. 
[Yukon the handsome pup in Gary's photo on this post!]
If you were a dog, what breed would you be and why?
I would probably be a Greyhound. I worked really hard for about two years of my life and am now totally burnt out and just want to sleep most of the time.
If dogs could run for public office, which breed do you think would make the best president?
Definitely a Pit Bull. Nobody messes with a Pit Bull, and all they really want to do is love up on everyone.
Why did you decide to become a dog walker?
Like most of my colleagues, I can't have a dog of my own (I can barely take care of myself), so dog walking was the perfect way to surround myself with canine companionship on an incredibly daily basis.
What's the weirdest thing about being a dog walker?
You definitely get a bit of a weird feeling sometimes when you're on a quiet street walking around with keys to a dozen houses jingling around making a racket. If you time your steps just right, it feels like walking around with spurs on. Which is awesome.
What would people never guess is part of your job as a dog walker?
I think people really underestimate how much time I spend with my hand inside of a dog's mouth. Whether that's because they're chewing on me for fun or I'm pulling something they shouldn't have out of their mouth, I think I have a permanent coating of saliva on my hand.
What is your biggest pet peeve while walking dogs?
It's so topical right now: I can't stand it when the snow melts and you see just how many people don't pick up after their dog. Just because something is technically biodegradable doesn't mean I want to look at it every day until it biodegrades.
What's the best part about being a dog walker?
The weather, obviously. Kidding aside, it's definitely getting to know all the personalities, quirks, and even issues of the dogs without them being able to directly communicate in an understandable way. They're like kids, but when they act out, you need to really try to figure out what's up and what you can do to help; you can't just sit them down in front of the TV and put on Moana until they get it together (the first reprise of How Far I'll Go, by the way).
---
Thank you so much for all of your hard work, Gary! If you would like to learn more about Gary and our other fantastic dog walkers, visit our website!