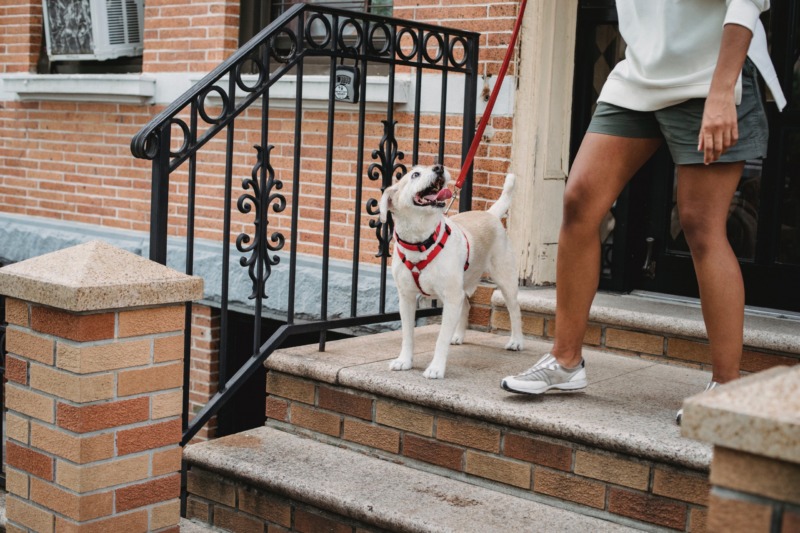 When getting started with Windy City Paws' services, choosing the perfect type of walk for your pup is integral to getting the right amount of exercise and attention they need. Every Windy City Paws walk covers the basics: exercise, attention, potty time, and plenty of love. Yet which one is right for your pet, and why? Read on to learn more about the different types of dog walks we offer, what types of dogs best benefit from each, and some helpful tips on dogs' exercise needs!
15 Minute Puppy Visit
Some puppies don't need long periods of exercise, especially within their first few months. Too much exercise can stress a puppy's developing joints and muscles, causing potentially lifelong issues. Some breeds and even some individual puppies have unique exercise needs, so knowing more about your pet's specific breed and temperament will help you decide what's best. Still, breaking up their daily activity into multiple short walks and playtime sessions is a good rule of thumb. 
In addition to regular exercise, puppies need consistency with activity, leash training, and socializing to aid their development, which is where our 15-minute puppy visits come in. Our 15-minute puppy visit is a twice-daily service ensuring your puppy gets to potty outside, enjoy some playtime, and work on any training needs they have. This option is perfect for that young puppy just learning about the world around them but not quite old enough yet for sustained walking outside. Puppies get big in the blink of an eye, and as they start to tolerate longer walks, our pups quickly graduate to …
30 Minute Dog Walk
Sometimes the old faithful is best, and our 30-minute any-weather walks are our standard service most of our clients use. A 30-minute walk is best for dogs from the late puppy stage all the way through gray-muzzled seniority, so it can contribute to any breed's activity needs. 
Even so, we tailor each walk to the dog's specific needs: do they prefer a long and active route, or would they rather sniff and explore along a small route? While we absolutely want to ensure each dog gets their fill out in the outdoors, covering the most distance possible in 30 minutes is not for every pet. Shorter distances are good for toy-sized breeds that work hard to cover even short distances, giant breeds that can tire easily, and flat-faced breeds that can overheat and experience breathing issues. Or simply for those dogs that just love to sniff around! Our Walkers take each pet's temperament and breed into consideration when deciding how to make the most of their walks.
Older puppies and adult dogs need to keep their skills sharp, which is why our Walkers are ready to help them practice any new commands or behaviors they're working on. This is why we prioritize giving as many of our canine clients a consistent Walker whenever possible. A revolving door of Walkers can be stressful for dogs and make training harder to stick, so consistency and trust are an imperative facet of any dog's development through their puppy stages.
Senior Dogs
While they may need a shorter route, an able-bodied senior dog still wants a daily allotment of exercise to stay healthy. With older dogs, the focus turns to personal attention and affection and keeping them interested in sights and scents during a shorter route. A vigorous pace can overtire a senior pet and have them gasping to go home in no time. If you're looking for a standard dog walk coupled with our superior Windy City Paws level of care, this is the service for you. 
60 Minute Dog Walk
Sometimes our dogs need a little extra time, and for these pets, we're happy to offer 60-minute walks. These walks are perfect for dogs with a high threshold for exercise or for breeds that require more activity on average. If you have a working, hunting, or herding breed of dog, be aware that these breeds are meant to spend long periods outside and often need upwards of two hours of exercise per day! 
If a long, brisk walk is still not quite enough exercise for your pup, we also offer 30-minute dog runs! For more on the benefits of running with your dog, check out our article here for tips and information. 
60-minute walks are also ideal if your dog has special needs requiring more special attention or if they can't be outside for very long but still need activity and stimulation. If you would like us to spend extra time indoors with your dog before or after a walk, we're always happy to split time outside and inside your home according to your dog's needs. 
Getting enough time outside is the cornerstone of any pet's health and wellness. As we've seen, what is sufficient changes based on each dog's particular breed, age, and individual needs. Deciding how long they need to be outside is important, but you're never stuck on one option— if ever you need to make any kind of adjustment to their routine, we are always happy and help give your pup the best care and attention they deserve!
Windy City Paws is a Fear Free Chicago dog walker and petsitter committed to providing helpful information to Chicago dog owners through its blog. For more information on our services, please visit us at windycitypaws.com or contact us at info@windycitypaws.com.