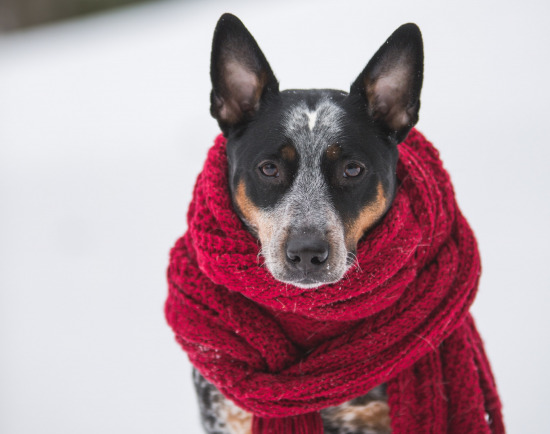 One cultural myth around dogs is that they're naturally immune from the cold ("Isn't that, like, what their fur is for") Certain breeds are indeed more suited to the cold, such as malamutes, huskies, and Samoyeds, while many other breeds need extra comfort! Some dogs might be veritable Wim Hoffs when it comes to the cold, so pay attention to your pup's particular tolerance. In general, however, if your dog has any of the following characteristics, they will need a coat:
Short hair (e.g., chihuahuas, beagles)

Fine or thin body types (e.g., Italian greyhounds)

Small or "toy" body types (i.e., dachshunds, Yorkies)
Like human children and seniors, puppies and senior dogs are more sensitive to cold temperatures. They both have weaker immune systems, and older dogs can have arthritic issues that make cold temperatures less tolerable without warm layers to ease their joints. If your dog has some grizzle on their muzzle or if they're under a year old, then they'll need extra winter protection. 
How can you tell if your dog is too cold? 
If you see your dog become physically uncomfortable with being outdoors, bring them inside! Visual cues are shaking and trembling, tail tucked between their legs, holding up their paws, etc. Here are a few signs that your dog is getting too cold:
Cold ears

Slow pace/lethargy

Panting

Shivering

Anxiety, i.e., tucked tail or ears, scrambling movements, or trying to run ahead

Holding paws away from their ground
Here's a quick test to see if the ground is too cold for their bare paws: place your ungloved palm on the ground and see if you can hold it comfortably for longer than 5–10 seconds. If the pavement is too cold for your bare hand, then it's too cold for your dog's bare paws!
Below we'll go through some basic winter gear options, with links to products and brands we recommend!
Coats & Sweaters
Generally, it's a good idea to give your dog at least a sweater when temperatures drop below 40º Fahrenheit, especially if they're short-haired, thinner, small-to-miniature breeds, puppies, or seniors. Huskies, Samoyeds, or other large and heavy-coated dogs will be more tolerant to the cold, but keeping a coat on hand for frigid days (think 10º and below) is a good idea, even for thick-furred dogs. Smaller or thinner dogs with short fur will benefit from multiple layers, such as a full-body fleece sweater beneath a coat. If your dog needs extra layers or just a light something for a chilly-but-not-cold kind of day, Gold Paw has you covered with an extensive line of light fleece sweaters.
Voyagers K9  and Canada Pooch offer various coat sizes and styles, from tummy warmers (coats that wrap around the backs and belly), standard winter coats and heavy coats for cold-to-freezing temperatures. Voyagers K-9 offers custom-sized jackets with a guide to measuring your dog included, so your pup can get the best fit. Want as much style as substance? Check out the GF Pet urban dog parka for a hip vegan fur-lined dog coat.
Hurtta is a pet clothing brand that specializes in winter gear. They offer standard winter coats and fleece layers, but their line of heavier coats is where they come through. Check out their parkas and snowsuits if your dog needs extra protection or loves to get outdoors in the wintertime. 
Does your dog have thin ears or get cold around their ears quickly? A neck warmer can help keep their ears (and, of course, their neck!) toasty, particularly when temperatures drop below 25-20º!
Boots
Boots are essential for most any dog when walking out in the winter. While some dogs have a higher tolerance for walking bootless, using boots can be a helpful way to prevent them from tracking water and snow in your house! Beyond that, they're also handy for keeping dogs' paws safe. Ice salt, for instance, is very harsh on a dog's paws, making even a pair of rubber slip-on boots essential. Snow and ice can get into the fur between your pet's toes and create painful ice clumps. Winter paw protection generally comes in three types: wax, rubber boots, and velcro-strapped boots.
Paw wax is a wax coating you can apply to the bottom of your dog's paws to protect them from ice, salt, and milder cold temperatures. If your pet has hair between their toes where snow or ice can tend to clump, paw wax can protect against that. Musher's Paw Wax is a brand popular with many of our clients, as Musher's wax is made with natural beeswax and vitamin E oils. Applying wax is helpful if your pet needs a quick potty break or if they do reasonably well walking without boots in the winter but still need protection.
Rubber boots are a low-cost yet effective option that provides good coverage and paw protection. Some dogs also prefer rubber boots to velcro-strap boots because they allow dogs to feel the ground better and feel more comfortable. Pawz disposable dog boots are excellent rubber boots made from biodegradable materials and come with 12 boots per pack. If your dog is in the habit of losing boots during a walk, this may be the solution for you. Canda Pooch's wellies boots are another rubber/silicone option in more of a high boot style. They're waterproof silicone boots that still allow dogs to feel the ground but have more coverage around their ankles. For a heavier-soled option, Sport PAWks dog socks have a thicker sole providing more grip for icy, slippery conditions.
Velcro strap boots are the warmest option for walking in snow or icy conditions. These boots are more insulated and provide more effective coverage around a dog's legs than a rubber shoe, so they're ideal for long walks or prolonged outdoor winter activities. I would recommend trying your pet out in these types of shoes before taking them out on a walk, as some dogs just hate, hate, hate, hate, hate wearing boots. And that's okay! A pair of rubber boots will be better than nothing. Muttluks' fleece-lined boots, Ruffwear's insulated dog boots, and Canada Pooch's soft shield boots (among their other boots) are some of our favorite choices for keeping your pup's paws warm through the winter!
Extra-helpful winter aids
LED leashes and collars are helpful for when you're walking your dog in the evening or when it's snowing: conditions when visibility is low. The reflective leash and light-up collar can alert pedestrians and drivers to your presence and keep you both safe.
If your house gets a little chilly, this electric dog bed by K&H can keep your pet cozy and warm through the day or night. If you plan to do some outdoor winter adventuring, this dog sleeping bag from Whyld River doubles as a travel-friendly insulated dog bed and ground mat.
Ice salt has its place, but it's coarse, rough, and just gets everywhere—especially in between your pup's toes! If you want to de-ice around your property without risking your dog's feet, this pet-safe ice melter by Paw Thaw is a go-to solution. It's biodegradable, water-soluble, provides traction, and is even safe for plant life!
Windy City Paws is a Fear Free Chicago dog walker and pet-sitter committed to providing helpful information to Chicago dog owners through its blog. Thank you, Nathaniel, for that information on winter gear for your pup!