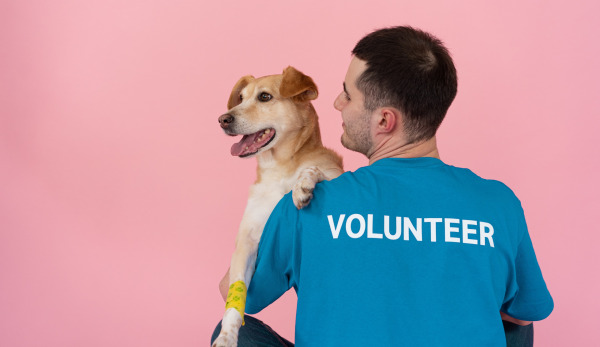 In our past blogs, we've touched on the adoption process (particularly in extraordinary COVID times) yet have you ever considered fostering a pet? It can be one of the most rewarding volunteer positions you can have with a rescue shelter, helping animals in need get back on their feet and feel loved while they look for their forever home. Whether this is your first time even hearing about fostering, or have already considered it but want to know more, this guide can help give an overview of what it is, what to expect, and how you can get started!
(This is a follow-up to our article on fostering from 2019. Check it out for an interview with the Anti-Cruelty Society's community program specialist, Tara Laffey!)
What is Fostering?
Fostering is volunteering to temporarily house a homeless animal on behalf of a shelter or rescue organization. During their stay, the organization searches for adoptees who will hopefully bring the pet home. The foster's job is to provide excellent quality of care and report any pertinent new information about the pet's health or behavior that is relevant to their wellbeing or future adoption. These programs typically service rescue dogs and cats, while other atypical pets like rabbits or pigs are also foster-worthy!
Why Should I Foster?
Volunteer fostering provides an essential service to shelters and rescue organizations by caring for animals who can't be housed by the shelter, or need special personalized attention. 
Reasons a pet may need fostering include:
The shelter needs to free up physical space for incoming animals

Certain pets aren't suited to stay in shelters, such as puppies and kittens, pets in recovery from illness or surgery, or pets with high anxiety/social stress 

socializing pets who have little or no experience living with people or other animals

Helping the organization learn more about a dog's temperament and personality in order to help their adoption 
Fostering confers a ton of benefits for adoption and rescue agencies, but can also be very rewarding for volunteers! Benefits such as:
if you have children, they can have opportunities to bond and learn responsibility

if you already have a pet at home, it can provide them with opportunities to socialize, especially if you're considering adopting a second pet

some volunteers have reported that fostering was a way to help process the death of a long-time animal companion

It just feels good to help an animal in need get support and stability before finding their new forever family! 
How Does it Work?
Once you've chosen your preferred foster program (links and contact information for various organizations are available at the bottom of this article), make sure to review their minimum requirements before reaching out to apply for the foster program. Some programs, for instance, require you to have reliable transportation in the event of a medical emergency. 
Once you've confirmed you meet the basic requirements, reach out to express your interest in their program. You'll go though an application and screening process before being confirmed as a viable foster home. This is to assess your home conditions and what kind of fosters you're able and willing to take on. Some places such as the anti-cruelty society host orientation sessions to address logistics, procedures, and questions before you can select your first foster pet. 
Organizations accept a wide variety of living situations, such as apartments, houses, children, or existing pets. They will try and match you with foster pets that will thrive in your unique home environment. If, prior to bringing a new foster into your home, you have any questions about the foster pet, you can always ask your organization for information they have available. As a volunteer, you have the option to refuse a foster dog if you have reason to believe they won't be a good fit.
Foster animals can stay as short as a few days to as long as two months, depending on the pet's and shelter's needs and the status of adoptions. If they need additional time for socialization, recovery, or to find a new home, you can be given the option for an extended stay. However, you're never obligated to house a pet longer than you're able. If you believe the pet and you aren't a good fit, or if you aren't able to care for them for longer, contact your host organization to help them find a new foster family.
Some programs give the option of helping the pet find their forever family, but you are generally not required to do that. All you're required to do is give them the best care possible until that lucky day!
What if I can't afford to raise a pet right now?
The cost of raising a pet can be a big responsibility (check out our article breaking down how much it costs to own a dog or cat) but as a foster volunteer, your organization will have you covered! Shelters lend a ton of support to their foster parents by providing food, walking supplies, toys, litter for cats, crates, and necessary medications. With that in mind, make sure to ask your chosen organization if they support fosters in other ways, such as with formal training or unexpected medical expenses. 
Could I adopt the pets I foster?
That you can! Some organizations will have different procedures for adoption in the event you absolutely fall in love with your foster dog. The aim of fostering is to be a temporary stay for the pet, but it is certainly possible to adopt if it's a good fit or if the pet is struggling to find a home. Just don't make it a habit! Request to adopt a foster pet too many times and the organization will probably recommend you come in to meet the available animals instead. Some organizations like PAWS First offer foster-to-adoption programs to help pets with challenging needs find their forever home by allowing candidates to foster them for a period before committing to adoption. 
Who Should I Contact to Get Started?
Felines & Canines: ​​
Abby@FelinesCanines.org
773-465-4132 (call 12:30-6:00 pm)
Bow Wow Revolution
bowwowrevolution@gmail.com
PAWS Chicago (link to volunteer foster page)
Anti-Cruelty Society (link to volunteer foster page)
One Tail at a Time 
alli@onetail.org
Windy City Paws is a Fear Free Chicago dog walker and pet-sitter committed to providing helpful information to Chicago dog owners through its blog. Thank you, Nathaniel, for that information on Fostering Pets!