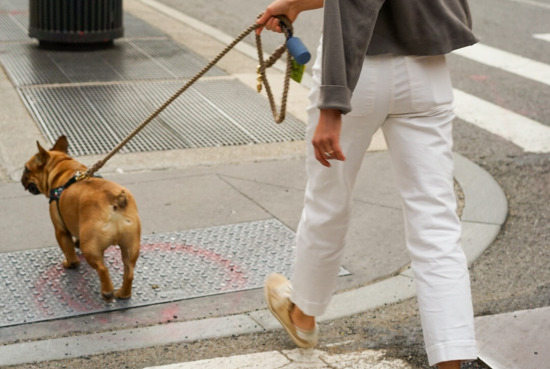 When you're out with your dog it's ideally a time to make a brief getaway from quotidian cares, getting lost in your surroundings, and all in all just taking your mind off things. As dog-walkers, we never have favorite dogs (it's like choosing children), but we certainly have our favorite walking spots in the neighborhoods we frequent with our furry clients! In this list below, our walker Nathaniel shouts out some choice spots to take your dog, including some landmarks of interest along the way! We look for a mix of engaging areas, quiet streets for the sound-sensitive, and access to open green space if we want to get off the sidewalk. Here's a list of some of our favorite walking spots in the city! 
Andersonville
Ravenswood Ave / Clark Street
This one is a toss-up. While the length of Ravenswood Ave is a quiet block thick with trees and generally low on traffic, there's nothing quite like the central vein of Andersonville. Consider it the introverted and extroverted sides of Andersonville at their best. Along Ravenswood aren't just sidewalks but small walking paths through gardens planted along the west side of the secluded Ravenswood. Over on Clark street are plenty of fantastic sidewalk shops, buskers, and cafes to stop by for a pick-me-up while on a dog walk!
Bucktown
The 606 East Trailhead
This elevated walking and biking path that stretches from Walsh Park in Wicker Park all the way to Logan Square is 3 miles of beautiful scenery, trees, and dedicated walking and cycling paths. The trailhead splits at various points for pedestrians to take a brief detour through the trees planted along the trailhead. Though it cuts across several neighborhoods on this list, the wide-open John Walsh Park at its easternmost access point puts it over the top for Bucktown, in my opinion. The access points at Walsh, de Burgos, and Churchill Field Park make for excellent rest and play areas.
Gold Coast
Astor St.
Astor Street stretches from the southern end of Lincoln Park and terminates at Division. Not only is it host to lush trees and some beautiful architecture, but features several historic landmarks along the way. Keep an eye out for the Charnley-Persky House, a famous early example of modern architecture designed by Louis Sullivan with help from a certain promising young draftsman, Frank Lloyd Wright. Just south of North Blvd, nestled between Astor and State is Wood Block Alley, one of the last remaining wood-paved streets in Chicago after wood paving was abandoned in the early 20th century. 
Lakeview
Southport
On the western end of Lakeview, you can't go wrong taking a stroll with your pup down Southport. Southport is full of treasures, including the Music Box Theatre, the bustling and pet-loving shopping area near Southport & Roscoe, and for "This American Life" fans will lead right to the Golden Apple Diner at the Southport, Wellington, and Lincoln intersection. 
Halsted
On the Eastern end of Lakeview is Halsted Street, home to Chicago's one and only Boystown, the first officially recognized LGBTQ+ neighborhood in the US. While taking your dog on a walk, be sure to pay attention to the Legacy Walk between Grace and Belmont street, an outdoor museum commemorating historical queer icons and events.
Lincoln Park
Hudson Ave / Menomonee St.
This intersection where Hudson turns a corner into Menomonee Street has a host of older and current architectural styles for sightseeing. This area is made even more special by the beautiful Midwest Buddhist Temple nestled in the corner of the conjoined streets and the presence of Sedgewick Park and Hudson Chess Park.  
Logan Square
Logan Square Park, Kedzie, Palmer Square, Humboldt
One of the best things about the Logan Square area are the connected parks from the Centennial Monument all the way to Humboldt Park. Just follow Kedzie down south, head east across Palmer Square Park, and south again on Humboldt for as long as you want, whether or not you want to reach Humboldt Park Proper. You won't lose sight of the surrounding neighborhoods, but never have to leave the grass. A more perfect walking path through Logan Square couldn't be asked for.
North Center
North Branch Riverwalk 
This walking path isn't a street but a beautiful path that runs along the Chicago River from Horner Park to Belmont. It's a beauty in any season, whether you want to take in the flowers in summer or enjoy a winter wonderland. In the warmer months, you might catch some action at the Dirt Jumps, a mountain bike and BMX trail nestled within Richard Clark Park!
Old Town
Wells St.
When it comes to the best places to walk in Old Town, Wells Street is hard to beat. At the northern head of Wells is the southern tip of the Lincoln Park Zoo. Heading down Wells takes you past the famous Second City Theatre and into the vibrant heart of Old Town. If your pup needs some quieter spots, taking them through Lincoln Park toward North St. past the Chicago History and Children's Fountain will give them plenty of opportunities for peace, quiet, and sniffs!
Ravenswood
Winnemac Park 
Winnemac Park is a hot spot for dog meet-ups, especially on the weekends. If you're up for having your pet socialize and make new friends, Winnemac Park is one of the best places to be that's not the dog beach. For exercise and walking, the park is host to many winding garden paths from one end of the park to the other, either end leading into quiet neighborhoods for further exploration. An excellent mix of open exploration, opportunities for playtime in the open areas, or just getting lost in a good stroll!
Roscoe Village
Roscoe St.
You just can't go wrong with walking down Roscoe when visiting Roscoe Village. Head to the corner of Damen and Roscoe, and choose your adventure: West brings you by some lovely sidewalk cafes and spots for your pup's exploration, and east brings you closer to more secluded and peacefully tree-laden neighborhoods before you hit Lincoln Avenue. 
Streeterville
River East Art Center Promenade & Bennett Park
If you're looking for a spot to escape the hustle of Streeterville, there's an access point off Lakeshore Drive where you can peacefully walk by docked boats and alongside the Ogden Slip before joining the world again on McClurg (any excuse to walk by the water is a good one, in my book). One block over is Bennett Park, a loop of walking paths between Grand and East Illinois street. For a little more socialization, stop by the Bennett dog park for some fetch or social time! 
Wicker Park
Schiller St & Hoyne
While the park in Wicker Park is a definite hot spot for taking your dog on a walk, strolling along the streets nearby the park can be a self-guided architectural tour! Head along Schiller Street and you'll find a slew of historic, Victorian-style homes. Look out for the "Wicker Park Castle," the double home built for a doctor and ship's captain, and the house with a cannon out front! There's a wealth of history, architecture, and beautiful walking available on Schiller and Hoyne. 
River North
Superior Street 
As far as areas to walk in River North, Superior Street is, well, superior! You could start at the art district by the Chicago Brown Line station and peep into the windows at some of the art on display. Stop by the Exhibit Park Dog area on Wells and Superior for some socializing and playtime! When you head east you can take in the absolutely gorgeous Holy Name Cathedral along the way. 
Kingsbury
The stretch of Kingsbury between Chicago and Kinzie Avenue will be a much quieter walk, taking you past some beautiful red brick residential buildings and up to Ward Park and Larrabee Dog Park for some open green space. Not as immediately visually magnificent, but an introspective alternative to the more active Superior St. 
The Loop
The Riverwalk
The Riverwalk is one of the most unique and beautiful spots to walk in Chicago, for the beauty of the river itself and the skyscrapers above. If you're dog-walking on the Riverwalk, be sure to take them toward the east end where it opens up onto more open green space, especially on the other side of Lakeshore Drive at Rulland Grove. Be sure to catch the architectural tour boats passing by, and listen for the tourists' ooh-ing and ahh-ing!
Maggie Daley
Further in the Loop, Maggie Daley Park is a perfect spot for your pup when walking downtown, especially if they're on the more sound-sensitive side. With plenty of grass, sidewalks, and options for exploring further south in the Loop's extensive parks and gardens, Maggie Daley is an all-around excellent dog-walking destination.
South Loop & The Loop
Michigan Avenue
On the one side of Michigan, you have some of the most extravagant sights of the downtown skyline… and on the other, the extensive Grant Park with its innumerable sculptures, gardens, and attractions to stumble across while you walk past. A true choose-your-own-adventure! Some past puppy clients especially loved to stop by the Rosenberg Fountains by Roosevelt and Michigan!
West Loop
Fulton Market
Search for "most walkable spots in Chicago," and the Fulton Market District is sure to come up. Head to West Randolph Street just off the Morgan Pink Line Station, and you'll have a long stretch of wide sidewalks and plenty of peaceful side streets to explore. For a quieter alternative to the buzzing West Randolph, head south to Monroe. Plenty of trees and spots for your dog to explore, plus access to Bartleme Park for extra space to stretch out, relax, or play fetch!
Got a favorite walking spot or local secret you don't see here? Drop us a line at info@windycitypaws.com and we'll include it in our next list of key places to visit when walking dogs in the city!